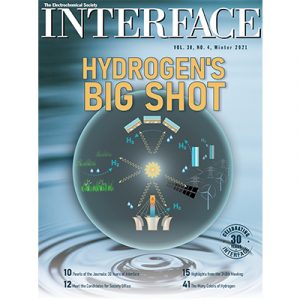 The ECS Interface winter 2021 issue is now available to read online. The issue on clean hydrogen is guest edited by Nemanja Danilovic, formerly of Lawrence Berkeley National Laboratory and now at Electric Hydrogen, and Iryna Zenyuk of the National Fuel Cell Research Center, University of California, Irvine. As always, Interface Editor Rob Kelly invites you to enjoy the issue's special features and news.
Special Features
Hydrogen's Big Shot
by Nemanja Danilovic, Iryna Zenyuk
Ten Questions for Kelly J. Speakes-Backman, Acting Assistant Secretary for Energy Efficiency and Renewable Energy, US Department of Energy
by Julie C. Fornaciari
From Hydrogen Manifesto, through Green Deal and Just Transition, to Clean Energy Act
by Plamen Atanassov, Vito Di Noto, Stephen McPhail
Hydrogen: Targeting $1/kg in 1 Decade
by Bryan S. Pivovar, Mark F. Ruth, Deborah J. Myers, Huyen N. Dinh
PEM Electrolysis, a Forerunner for Clean Hydrogen
by Kathy Ayers, Nemanja Danilovic, Kevin Harrison, Hui Xu
Hydrogen at Scale Using Low-Temperature Anion Exchange Membrane Electrolyzers
by Sanjeev Mukerjee, Yushan Yan, Hui Xu
Hydrogen is Essential for Industry and Transportation Decarbonization
by Rod Borup, Ted Krause, Jack Brouwer
Getting Hydrogen to the Gigaton Scale
by Bryan S. Pivovar, Mark F. Ruth, Akihiro Nakano, Hirohide Furutani, Christopher Hebling, Tom Smolinka
30 Years of Pearls from The Electrochemical Society Journals
by Eric D. Wachsman
Technical Articles
The Chalkboard 1 – The Many Colors of Hydrogen
by Ahmet Kusoglu
The Chalkboard 2 – How to Make Clean Hydrogen
AWSM: The Advanced Water Splitting Materials Consortium
by Shaun Alia, Dong Ding, Anthony McDaniel, Francesca M. Toma, Huyen N. Dinh
Tech Highlights
by Joshua Gallaway, Mara Schindelholz, David McNulty, Chao (Gilbert) Liu, Chock Karuppaiah, Donald Pile
Issue Highlights 
Candidates for Society Office
Summer Fellowships & Colin Garfield Fink Fellowship Summary Reports
Highlights of the 240th ECS Meeting
A special shout out to our winter 2021 advertisers: don't miss their recent offerings!

Please enjoy the full issue of Interface here.