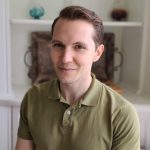 The winner of the first ECS Pacific Northwest Section Electrochemistry Student Award has been named: Mitchell Kaiser of the University of Washington. Join us in congratulating him! Kaiser will receive the award at this summer's ECS Pacific Northwest Section meeting.
The section established the award in 2021 to recognize promising young engineers and scientists pursuing PhDs in electrochemical engineering and applied electrochemistry, and to encourage recipients to continue careers in these fields. The winner receives a US $1,000 prize. Visit the award page for the full award description.
Mitchell Kaiser
Mitchell Kaiser was born and lived in Vancouver, WA, until he moved to Seattle, WA, in 2014 to attend the University of Washington (UW). In Professor Daniel Gamelin's UW lab, he studied the post-synthetic modification of cesium-bismuth-halide nanoparticles by anion exchange to achieve structures not accessible via direct hot-injection synthesis. Kaiser graduated with a BS in chemistry and an ACS certification in 2018. He loved UW so much that he started a PhD chemistry program there in the fall of 2018. Kaiser is now a member of Professor Jun Liu's lab, fabricating ultramicroelectrode devices from monolayer molybdenum disulfide. He uses a technique called Quantum Capacitance Spectroscopy that he developed with Dr. Mengyu Yan to study the relationship of the electronic structure of pristine and modified electrode materials and the catalytic activity of the material for various reactions. In his free time, Kaiser enjoys taking advantage of the Pacific Northwest's natural beauty—hiking, kayaking, and running whenever time and weather permit. He also enjoys creative outlets including blacksmithing and leatherworking.
ECS Honors & Awards Program
The ECS Honors & Awards Program recognizes outstanding technical achievements in electrochemistry and solid state science and related technologies, and exceptional service to the Society. Recognition opportunities exist in the following categories: Society, Division, and Section Awards. A number of Society fellowships and student awards reward achievements by students and early-career professionals.
The annual nomination deadline for the ECS Pacific Northwest Section Electrochemistry Student Award is February 28.
For further information about the ECS Honors & Awards Program, email awards@electrochem.org or telephone 609.737.1902.