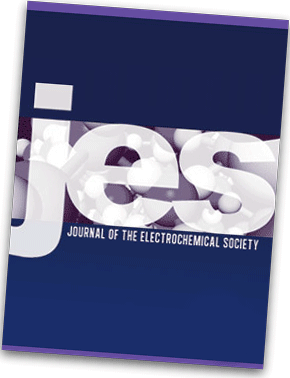 Over 1,840 articles were published in ECS journals in 2017, ranging from battery technology to materials science. Among those articles, "The Development and Future of Lithium Ion Batteries" by ECS member of 48 years, George E. Blomgren, stood out as the most downloaded paper of the year, with over 25,000 downloads in total.
The open access paper was published in the Journal of The Electrochemical Society (JES) and has held the number one top download spot for the majority of the year. In November 2017 alone, it hit a record-setting 4,080 downloads. Blomgren credited the paper's outstanding success to the continued surging interest in lithium-ion batteries, a technology that has made its profound mark on consumer electronics such as cellphones and computers, and continues to be applied to emerging innovations ranging from large scale energy storage to electric vehicles.
The paper, which highlights the past, present, and future of battery science and technology, was published as part of the JES Focus Issue of Selected Papers from IMLB 2016 with Invited Papers Celebrating 25 Years of Lithium Ion Batteries. The focus issue contains contributions from veteran scientists considered by many to be founding fathers in lithium battery science, including Emanuel Peled, Tetsuya Osaka, Zempachi Ogumi, Jeff Dahn, Robert Huggins, and of course, Blomgren.
(MORE: Listen to the ECS Podcast featuring key figures in the development of the lithium-ion battery.)
"There are so many new researchers coming into this field who might not know or understand the difficulties in developing a lithium-ion battery," Blomgren says. "I wanted to put together a picture of what was really involved in this kind of battery development discovery. It's not a single person or a single event. The paper really helps provide a view of what the battery field is all about."
Blomgren's article draws a timeline of the most significant advances in the development of the lithium-ion battery, starting with Asahi Kasei's early work in low temperature carbons, battery pioneer John B. Goodenough's significant scientific contributions, commercialization by Sony in 1991, and how the technology has grown from both a scientific and applied standpoint over the past 25 years.
Through the evolution of lithium-ion battery science and technology, Blomgren has been there to see, and often times contribute to, the rapid growth and development. Starting his career at Union Carbide Corporation 1962, Blomgren immediately went to work on new battery technologies. At that time, non-rechargeable primary batteries dominated energy storage research, with the then popular carbon zinc battery and the emergence of the alkaline battery. However, Blomgren's research experience allowed him to branch out and begin exploring the potential of the lithium battery at a very early state.
"The idea of making a rechargeable lithium battery was pretty much just a dream at that time," Blomgren says.
While the ideas of the rechargeable lithium-ion battery seemed like a pipe dream to some, Blomgren continued his work in the field and eventually developed the lithium thionyl chloride battery. Energizer engaged in and won a 10 year patent battle over the technology, marking an important moment in the history of lithium battery technology.
Blomgren was also instrumental in early work on lithium iron disulfide batteries, which were key in looking at high temperature applications for battery technology. Blomgren's efforts assisted in what would be Energizer's commercialization of common primary batteries still seen in production today.
After many successful efforts in primary battery research and other types of lithium battery research, he began working on rechargeable lithium batteries. Initially, he and his team encountered many of the barriers that plagued early lithium batteries, including safety concerns.
"During the charge cycle there was the opportunity of forming a short circuit in the battery and when that happened, occasionally the battery would spontaneously explode, which was very, very disastrous," Blomgren says. "We had to devise special protection for the test equipment to just be sure we could safely test the batteries."
As he continued his work on the rechargeable lithium battery, Sony emerged as a contender looking to commercialize the technology. Sony was a partner with Eveready Battery Company (formerly Union Carbide) where Blomgren was working. In order to commercialize the battery, Sony needed a missing piece that Blomgren was working on: the carbon negative electrode.
Blomgren's key role in the development of the first commercial lithium-ion battery and his relationship on the commercial side with Sony made him an ideal candidate to write a history of lithium-ion battery development. When ECS technical editor Doron Aurbach reached out to Blomgren to request a contribution for the focus issue celebrating the 25th anniversary of the commercialization of the lithium-ion battery, the pieces fell into place.
Blomgren's "The Development and Future of Lithium Ion Batteries" also explores the potential for lithium-ion batteries in future and emerging applications, including what he believes to be one of the most promising applications: electric vehicles.
"The electric vehicle is a key part of the whole aspect of renewable energy, presenting an alternative to fossil fuel transportation," Blomgren says. "That in itself is an unbelievably important development of lithium-ion batteries."
While Blomgren believes that recent developments point to the likelihood that the lithium-ion battery will continue to improve in cost, energy, safety, and power capability in the years to come, potential applications for the technology continue to branch into area initially thought impossible.
"I think it's interesting that the field has afforded somebody like me such a long career," Blomgren says. "It's just been a wonderful field to be associated with."