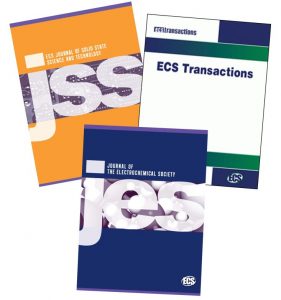 Not sure what to download during Free the Science Week?
Over 37% of the ECS journal content published since 2014 is open access—free to access all year round. During Free the Science Week, which runs until April 7, you have free access to the other 63% of this content (and much more) ordinarily found behind the paywall.
The lists below compile this year's most-read articles typically found behind the paywall from the Journal of The Electrochemical Society, the ECS Journal of Solid State Science and Technology, and ECS Transactions.
Download them while they're free to access!
Journal of The Electrochemical Society
Review—Li-Rich Layered Oxide Cathodes for Next-Generation Li-Ion Batteries: Chances and Challenges

 | Patrick Rozier and Jean Marie Tarascon
Effect of Microstructure on the Ionic Conductivity of an All Solid-State Battery Electrode | Linus Froboese, Jan Felix van der Sichel, Thomas Loellhoeffel, Laura Helmers, and Arno Kwade

High Energy Density Metal-Air Batteries: A Review | Md. Arafat Rahman, Xiaojian Wang, and Cuie Wen

Theory of SEI Formation in Rechargeable Batteries: Capacity Fade, Accelerated Aging and Lifetime Prediction | Matthew B. Pinson and Martin Z. Bazant

Electrochemical Impedance Spectroscopy Study of a Lithium/Sulfur Battery: Modeling and Analysis of Capacity Fading | Zhaofeng Deng, Zhian Zhang, Yanqing Lai, Jin Liu, Jie Li, and Yexiang Liu

Measuring the Coulombic Efficiency of Lithium Metal Cycling in Anode-Free Lithium Metal Batteries | Matthew Genovese, A. J. Louli, Rochelle Weber, Sam Hames, and J. R. Dahn

Improved Cycle Performance of LiNi0.8Co0.1Mn0.1O2 Positive Electrode Material in Highly Concentrated LiBF4/DMC | Ziyang Cao, Michihiro Hashinokuchi, Takayuki Doi, and Minoru Inaba

Electrolyte Concentration Effect on Sulfur Utilization of Li-S Batteries | Ke Sun, Na Li, Dong Su, and Hong Gan

The Effect of Battery Separator Properties on Thermal Ramp, Overcharge and Short Circuiting of Rechargeable Li-Ion Batteries | Ethan Wang, Hung-Ping Wu, Chao-Hung Chiu, and Po-Heng Chou

Enabling High-Energy, High-Voltage Lithium-Ion Cells: Standardization of Coin-Cell Assembly, Electrochemical Testing, and Evaluation of Full Cells | Brandon R. Long, Steven G. Rinaldo, Kevin G. Gallagher, Dennis W. Dees, Stephen E. Trask, Bryant J. Polzin, Andrew N. Jansen, Daniel P. Abraham, Ira Bloom, Javier Bareño, and Jason R. Croy

ECS Journal of Solid State Science and Technology
ECS Transactions