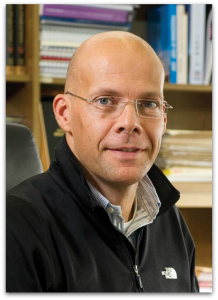 Dirk Guldi of the University of Erlangen-Nuremberg will be awarded the 2015 Nanocarbons Division Richard E. Smalley Research Award for his outstanding contributions to the areas of charge-separation in donor-acceptor materials and construction of nanostructured thin films for solar energy conversion.
The prestigious award was established in 2006 to recognize in a broad sense, those persons who have made outstanding contributions to the understanding and applications of fullerenes.
Dr. Guldi's career has a robust background in academia and research. He has held positions at Notre Dame Radiation Laboratory, and has also served as the Associate Editor of the journal Nanoscale. Since 2004, Dr. Guldi has authored or co-authored more than 300 peer-reviewed articles and has been named among the world's 2014 Highly Cited Researchers by Thomas Reuters.
Dr. Guldi is currently a Professor in the Department of Chemistry and Pharmacy at the Friedrich-Alexander University in Erlangen, where his research topics of interest include efficiencies of solar energy conversions.
Take a peek at Dr. Guldi's abstract for his award address entitled, "Nanocarbons for Optoelectronic Applications".
The award will be presented at the 227th ECS Meeting in Chicago this May. Registration for this meeting is now open!
Want to see more of Dr. Guldi's research? Take a look his abstract on fullerenes in the ECS Digital Library!