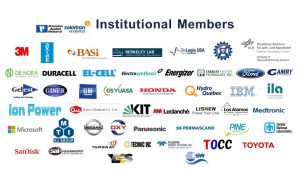 The ECS Institutional Membership Program provides a number of benefits for electrochemical and solid state science organizations from around the world. Institutional members are able to choose the benefit options that best help meet their organizational goals such as employee development, marketing and outreach opportunities, access to the ECS digital library, and publishing content with ECS.
Institutional membership allows each organization to create a benefits package allowing a customized engagement experience throughout our program areas. Examples of interests for different organization types are:
Academia – discounts on subscriptions, open access publishing credits, complimentary meeting registrations, and recruitment.
Government – recruitment, access to the ECS digital library, complimentary meeting registrations, and employees receiving member benefits.
Industry – exhibiting and sponsoring, marketing, advertising, and recruitment.
Your employees may ask "what's in it for me?" The answer is, they receive the ECS member benefits at no cost to them! Employees of institutional member companies who are selected as member representatives receive all the benefits of individual membership through the organization's institutional membership.
Contact the director of membership services, Shannon Reed, for more information about institutional membership and to discuss your organization's needs.
There are currently 50 institutional members who benefit from the membership program. On average, the organizations have been involved with ECS for more than 22 years! Don't miss the opportunity to be an integral part of the ECS community.