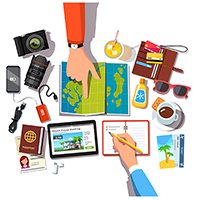 Deadline: Monday, July 27, 2020
Are you an undergraduate, graduate student, postdoctoral researcher, young professional, or faculty member presenting a paper at PRiME 2020? Many ECS divisions and sections offer travel grants to help fund travel to the meeting. See which ECS divisions and sections are offering travel grants —and their specific requirements. 
Don't let insufficient funding stop you from attending and presenting your research at PRiME 2020 in Honolulu, Hawaii, from October 4-9, 2020. Travel grant applications must be received no later than July 27, 2020. Applicants may only apply for a travel grant from one division. After reviewing the application requirements, please contact travelgrant@electrochem.org with any questions or concerns.
We hope to see you in Honolulu, Hawaii, this fall!