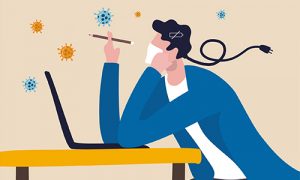 Kiana Amini, department of chemical engineering PhD candidate at the University of Waterloo, has some tips on how you can stay scientifically productive during the COVID-19 pandemic. 
In an article published on the University of Waterloo blog, Amini says although most in-person classes, events, and research operations are now remote, which presents its challenges, it also presents many opportunities.
For example, the time to …
Read recent publications in your field of work
Plan your next experimental design
Apply for research grants, fellowships, or awards
And—take a break!
Read Amini's full article here.
Scientists, researchers, engineers, students—how are you coping with COVID-19? ECS wants to hear your story!
Tell us how the pandemic has impacted your studies, lab work, and other work. What creative measures have you taken to overcome obstacles? Send us your photos! Share your stories. Come together and motivate others!
Don't forget to share your stories on social media and tag us too!