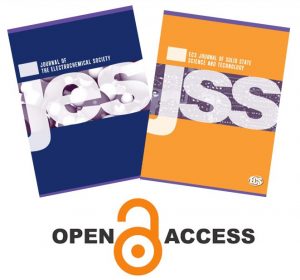 With Free the Science Week in full swing, readers have free, uninhibited access to the more than 151,000 articles and abstracts in the ECS Digital Library until Sunday, April 7.
But the Free the Science initiative isn't just about making research free to access; it's also about making research free to publish.
So one of the best ways you can celebrate Free the Science Week is by making plans to publish your next ECS article Author Choice Open Access.
Covering the cost of open access
Both of ECS's peer-reviewed journals—the Journal of The Electrochemical Society and the ECS Journal of Solid State Science and Technology—offer Author Choice Open Access.
In many cases, the Society's Author Choice Open Access program allows authors to publish open access at no cost to them.
In fact, over 90% of the open access articles ECS published since 2014 were published at no cost to authors, thanks to the over $2.1 million in article processing charge credits the Society provided.
Understanding article credits
ECS's standard open access article processing charge is $1,000 per accepted article.
Authors who wish to publish their article open access in an ECS journal need to either pay the article processing charge or use an article credit in place of payment after their manuscript has been accepted.
For 2019, ECS members and student members receive one article credit per membership year. Any papers published after this credit has been used receive a 75% discount, bringing the article processing charge down to $250. The cost of ECS membership is $130 per year, and the cost of student membership is just $30 per year. Learn more.
Papers accepted for publication in ECS focus issues are published open access at no cost to authors. Learn more.
Authors affiliated with institutions subscribed to ECS Plus, the Society's read-and-publish subscription package, receive unlimited article credits. Learn more. See if your institution subscribes.
Institutional membership packages may be customized to include up to 45 article credits for affiliated authors. Learn more.
See an overview of ECS's article credit program.
Open access and copyright
In place of a copyright transfer, authors who wish to make their articles open access are asked to sign an exclusive Open Access Publishing Agreement with ECS.
Copyright will remain with the author(s), and the author will need to select a Creative Commons usage license to attach to the work, which will define how the article may be used by the general public.
ECS offers authors a choice of two Creative Commons licenses, CC BY or CC BY-NC-ND.
More information about the licenses can be found on the Creative Commons website.
How to publish open access
Follow the steps outlined in the Society's open access workflow to publish open access in ECS journals. Please also review the author instructions for submitting to ECS journals.
For additional information about publishing open access with ECS, please consult the ECS Author Choice Open Access page.
If you still have questions about publishing open access in ECS journals, feel free to contact ECS at oa@electrochem.org.
As you enjoy unlimited access to ECS's entire online collection of published research for the duration of Free the Science Week, please consider publishing open access to make your discoveries accessible to everyone around the world at all times of the year. #FreeTheScience.