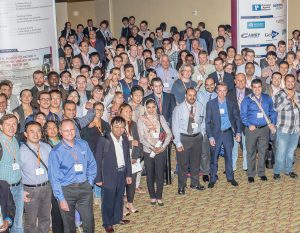 ECS would like to congratulate Johan Scheers of the Volvo Group for winning first place in the August 2018 Refer a Friend Contest! Scheers receives a complimentary meeting registration to a 2019 ECS biannual meeting of his choice.
The second place recipient, Anatolie Carcea from the University of Toronto, receives a complimentary 5-year membership. Tatiana Lastovina from Southern Federal University in Russia, the third place winner, receives a complimentary 3-year membership.
Members were challenged to recruit new members to the Society throughout August; emails were sent each week to encourage these member-to-member recruitment efforts.
ECS successfully recruited 106 new members and 79 new student members last month. Additionally, 77 members and 11 students renewed their ECS memberships.
In total, the number of members joining or renewing their membership was 273 for August 2018! This surpasses the March 2018 membership drive recruitment of 256 new members.
The Society was formed by scientists for scientists. Members are the driving force behind the success of ECS. That being said, the challenge of recruiting and especially retaining members is never-ending. Remember, people join for people. As a member of ECS, your promotion and support of the organization contributes to the success of the science and the sustainability of the organization.
Do you know someone who is not a member? Send them to www.eletrochem.org/join to become a member! Tell them all about the amazing membership benefits.
Read more about the March membership drive.