Don't Discount the Honorable Mention!
The second 2018 San Francisco Section Daniel Cubicciotti Student Award (Honorable Mention) Goes to Sara Renfrew!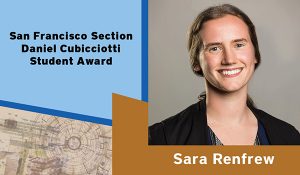 Each year, the ECS San Francisco Section recognizes a deserving undergraduate student from a college or university in Northern California through the San Francisco Section Daniel Cubicciotti Student Award. The award was established in 1994 to assist a deserving student to pursue a career in the physical sciences or engineering and to honor distinguished researcher Daniel Cubicciotti. First prize recipients receive an etched metal plaque and $2,000 prize. In addition, the San Francisco section recognizes up to two additional students with an honorable mention: a framed certificate and a $500 prize.
Sara Renfrew is a PhD candidate in the department of chemical and biomolecular engineering at the University of California, Berkeley. She received her BS in chemical engineering from the California Institute of Technology (Caltech) in 2011. Her undergraduate research spanned several areas including DNA electrochemistry, organic dielectric breakdown, and alkaline MnO2 electrochemistry. While at Caltech she was awarded the SMART undergraduate fellowship and through this was afforded the opportunity to work for the US Army for a summer internship and later full employment at Aberdeen Proving Grounds near Baltimore, MD. At the Army, she worked as a chemical engineer for the Command Power & Integration Directorate (CP&ID) on Li-O2, Li-ion, and Ni-Fe chemistries. In 2013, she began her graduate research at UC Berkeley where she received a National Defense Science and Engineering Graduate Fellowship. Under Bryan McCloskey, her research has focused on using differential electrochemical mass spectrometry to understand the role of contaminants in the outgassing and instabilities of Li-ion battery electrodes and electrolytes. In her spare time, Sara enjoys playing the cello, gardening in her vegetable and drought-tolerant gardens, and motorcycling.
The ECS Honors and Awards Program promotes technical achievements in electrochemistry and solid state science and technology. The program also recognizes exceptional service to the Society. Recognition opportunities exist in the following categories: Society awards, division awards, and section awards. The annual nomination deadline for the San Francisco Section Daniel Cubicciotti Student Award is January 30.