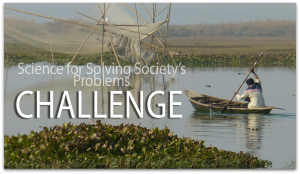 The American Society of Association Executives (ASAE) recently awarded the Power of A Gold Award to ECS for the Society's exemplary humanitarian efforts. Though a partnership with the Bill & Melinda Gates Foundation, the Society was able to establish the Science for Solving Society's Problems Challenge to leverage the brainpower of some of the top scientists in the world in an effort to solve global issues in water and sanitation.
The ASAE Power of A Awards are presented annually to associations that use their resources to instill a positive change in the world. Receiving the award denotes an association's commitment to improve world conditions, solve some of the most pressing global issues, and kick start innovation.
Other associations honored include the American Society of Mechanical Engineers for their Future Engineers 3D Space Challenges, the American Association for Clinical Chemistry for LabTestsOnline.org, and the Emergency Nurses Association for their Ebola Crisis Response.
Learn more about our Science for Solving Society's Problems Challenge and ECS's other humanitarian efforts, such as the ECS Toyota Young Investigator Fellowship.