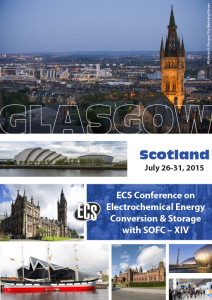 The ECS Conference on Electrochemical Energy Conversion & Storage with SOFC-XIV in Glasgow is right around the corner. With Scotland on our minds, we thought it'd be fitting to look at some of the greatest Scottish scientists, inventors, and engineers. In spite of being a relatively small country, Scotland has produced a group of prolific and esteemed scientists. Take a look at our list and join us in Glasgow, July 26-31.
John Logie Baird (1888-1946)
Engineer, Inventor
Baird was one of the inventors of the mechanical television and was the first person to publicly demonstrate the color television system.
Alexander Graham Bell (1847-1922)
Engineer, Scientist
One of Scotland's most eminent scientists, Bell is credited with inventing the first practical telephone. Bell established the Volta Laboratory and Bureau in the late 19th century, which would eventually become known as Bell Labs. (Check out our podcast on Bell Labs!)
Joseph Black (1728-1799)
Chemist, Physician
Black is best known for his discoveries of latent heat, specific heat, and carbon dioxide. Chemistry buildings at both the University of Edinburgh and the University of Glasgow are named after him.