Veronica Augustyn
Associate Professor of Materials Science & Engineering
University Faculty Scholar
North Carolina State University, U.S.
Date: August 18, 2021
Time: 1000h EDT
Sponsor: Hiden Analytical

Understanding host-guest interactions of layered inorganic solids ushered in the modern era of portable electronics powered by lithium ion batteries. Future improvements in the power capability of these devices, and their potential use in emerging technologies such as water treatment, critical element recovery, and ion-based electronics, depend on the development and understanding of new ion insertion hosts with fast insertion kinetics. One avenue is via tuning the interlayer environment of a layered material, since many are flexible hosts whose interlayers can accommodate not just electrolyte ions but also solvents, organic molecules, polymers, and organometallics. The webinar reviews the Augustyn Research Group's investigation of the mechanistic understanding of water-mediated ion intercalation in transition metal oxides. Topics covered include the role of ordered and confined water networks in transition metal oxide hydrates; design of metastable hydrated oxides via displacement of interlayer ions by water; and role of disordered and confined water networks in electrochemical capacitor materials. The fundamental understanding of these materials, which blur the distinction between solid and liquid, paves the way for electrochemical ion insertion applications with high power capability.
Benefits of attending the webinar
Learn about:
How water inside of a material affects ion intercalation for energy storage applications;
Materials design for ion insertion;
Effect of interlayer confinement on electrochemical capacitance.
Veronica Augustyn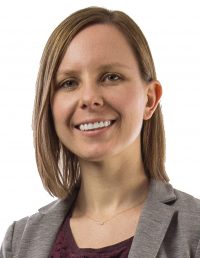 Veronica Augustyn is an Associate Professor of Materials Science & Engineering and a University Faculty Scholar at North Carolina State University (NC State), U.S. From 2013-2015, she was a Postdoctoral Fellow at the University of Texas at Austin, U.S. She received her PhD from the University of California, Los Angeles, U.S., in 2013 and BS at the University of Arizona, U.S., in 2007, both in Materials Science & Engineering. Her research group focuses on the design, synthesis, and characterization of materials for electrochemical energy technologies including batteries, electrochemical capacitors, electrolyzers, and fuel cells. In particular, Augustyn is interested in the relationships between material structure, composition, and morphology, and the resulting electrochemical mechanisms. She leads SciBridge, an award-winning international project at NC State which develops renewable energy research and education collaborations between universities in Africa and the United States. Her research group was recognized with a 2019 Sloan Fellowship in Chemistry, 2019 DOE Early Career Award, and 2017 NSF CAREER Award. In 2021, she was named an NC State Goodnight Early Career Innovator and received the George H. Blessis Advising Award for her mentorship of undergraduate students.

Learn more about upcoming ECS Webinars and review our previous webinar recordings.
---
We thank our webinar sponsors who make these complimentary programs possible.

Are you interested in presenting in the ECS Webinar Series? For consideration, email education@electrochem.org with your presentation title and abstract.