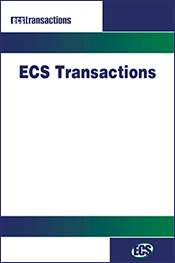 ECS Transactions (ECST) is the official conference proceedings publication of The Electrochemical Society. Featuring full-text content of proceedings from ECS meetings and ECS-sponsored meetings, ECST is a high-quality venue for authors and an excellent resource for researchers. For a full listing of available volumes and issues, or to purchase individual articles, please visit the ECS Transactions page of the ECS Digital Library. Full issues may be purchased through the ECS Online Store.
---
237th ECS Meeting – Volume 97 – Published
| | | |
| --- | --- | --- |
| D01 |   | Dielectrics for Nanosystems 8: Materials Science, Processing, Reliability, and Manufacturing |
|   |   | PDF | Browse TOC |
| D02 |   | Nanoscale Luminescent Materials 6 |
|   |   | PDF | Browse TOC |
| G01 |   | Silicon Compatible Emerging Materials, Processes, and Technologies for Advanced CMOS and Post-CMOS Applications 10 |
|   |   | PDF | Browse TOC |
| H01 |   | Wide-Bandgap Semiconductor Materials and Devices 21 |
|   |   | PDF | Browse TOC |
| H02 |   | Advanced CMOS-Compatible Semiconductor Devices 19 |
|   |   | PDF | Browse TOC |
| H03 |   | Solid-State Electronics and Photonics in Biology and Medicine 7 |
|   |   | PDF | Browse TOC |
Issues are available for PDF full-issue purchase from the ECS Online Store or individual article download from the ECS Digital Library on IOPscience.
---
Special Issue: Selected Proceedings from the 237th ECS Meeting
Due to the cancellation of the 237th ECS Meeting scheduled to take place in Montréal, Canada, the Society is publishing a special issue of selected proceedings from the 237th ECS Meeting as an alternative option for authors to share research related to their planned technical presentation.
Authors in symposia that had not planned to publish an issue of ECST now have the opportunity to submit a paper to this special issue. Authors in these symposia that had submitted content to ECSarXiv as part of the 237th ECS Meeting may also submit to this special issue of ECS Transactions.
Upcoming deadlines for the special issue:
April 3, 2020 – Submission site opens for authors; editors have access for early reviews
May 17, 2020 – Submission deadline
May 18, 2020 – Review period opens to editors
June 12, 2020 – Review period closes to editors
July 10, 2020 – Anticipated publish date for the special issue
Once published, the special issue will be made available for PDF full-issue purchase from the ECS Online Store or individual article download from the ECS Digital Library on IOPscience.
---
FAQs
How do I submit to an ECS Transactions issue in production from D01, D02, G01, H01, H02, or H03?
If you were presenting in a symposium that had elected to publish their proceedings in an issue of ECS Transactions, the corresponding author of your meeting abstract had already received an invitation to submit to the respective issue. These issues are now closed to submissions. Unfortunately, authors from these symposia that decided not to submit prior to will not be able to submit to this special issue.
How do I submit to the special issue "Selected Proceedings from the 237th ECS Meeting" of ECS Transactions
The corresponding author of your meeting abstract will receive an invitation to submit on April 3, 2020. This email will contain the URL for the site, as well as basic instructions on how to prepare and submit the paper when it is ready.
Submission Instruction Highlights:
Please use the ECST Manuscript Template while preparing your submission. Formatting requirements are ultimately at the discretion of the editor, but following this template ensures a uniform look, and prevents manuscripts from being sent back for additional revisions due to formatting problems.
If you use any special font sets (Greek characters, ligatures, wingdings, etc.), you must embed your fonts within your manuscript, or else these characters may not be translated correctly by the submission system.
Do not password protect your document. If you do this, ECST will be unable to apply issue information or page numbers, and will be unable to correct margin errors, or other formatting errors.
Although the primary method of distribution for ECST is digital (published online and as a CD/USB edition), ECST offers a "print on demand" service for those who would prefer a softcover edition. When the issue is printed, any color figures or photographs will be printed in black-and-white; please be aware that color images may not reproduce well in black-and-white. As a courtesy to those who purchase the print edition, please be sure to check your figure legends carefully and remove any mention of color.
Additional resources can be found online at:
Quick guide for submission to ECST
Full ECST submission instructions
If you did not receive an invitation to submit, please contact ECST@electrochem.org for assistance.
What symposia are part of the special issue of ECST?
A01 – Battery and Energy Technology Joint General Session
A02 – Lithium Ion Batteries and Beyond
A03 – Large Scale Energy Storage 11
B01 – Carbon Nanostructures for Energy Conversion and Storage
B02 – Carbon Nanostructures in Medicine and Biology
B03 – Carbon Nanotubes – From Fundamentals to Devices
B05 – Fullerenes – Endohedral Fullerenes and Molecular Carbon
B06 – 2D Layered Materials from Fundamental Science to Applications
B07 – Light Energy Conversion with Metal Halide Perovskites, Semiconductor Nanostructures, and Inorganic/Organic Hybrid Materials
B08 – Porphyrins, Phthalocyanines, and Supramolecular Assemblies
C01 – Corrosion General Session
D04 – Plasma Electrochemistry and Catalysis
E01 – Surfactant and Additive Effects on Thin Film Deposition, Dissolution, and Particle Growth 2
E02 – Nucleation and Growth Processes Enabling Energy Conversion and Storage
E03 – Electrodeposition of Alloys, Intermetallic Compounds, and Eutectics
F01 – Advances in Industrial Electrochemistry and Electrochemical Engineering
I01 – Electrosynthesis of Fuels 6: In Honor of Mogens Mogensen
I02 – Hydrogen or Oxygen Evolution Catalysis for Water Electrolysis 6
I03 – Materials for Low Temperature Electrochemical Systems 6
I04 – Renewable Fuels via Artificial Photosynthesis or Heterocatalysis 5
I05 – Mechano-Electro-Chemical Coupling in Energy Related Materials and Devices 4
I06 – Energy Conversion Systems Based on Nitrogen 3
I07 – Invited Perspectives and Tutorials on Electrolysis
K01 – 14th Manuel M. Baizer Memorial Symposium on Organic Electrochemistry
K02 – Electron-transfer Reactions in the Characterization of Biological Systems
L01 – Physical and Analytical Electrochemistry, Electrocatalysis, and Photoelectrochemistry General Session
L06 – Electronic Structure Theory and Simulations for Energy and Electronics
L07 – Nanostructured Functional Materials for Electrochemistry
Z01 – ECS General Student Poster Session
Are symposia part of IMCS 2020 participating in the special issue of ECST?
At this time, IMCS 2020 will not be part of this special issue as their meeting will be rescheduled at a future date to be announced.
ECS, in collaboration with IMCS, will continue to publish a Journal of The Electrochemical Society focus issue covering topics related to planned symposia from IMCS 2020. Volume one of this focus issue begins accepting papers May 4, 2020. To learn more, view topics covered, or submit to the focus issue, visit the call for papers.
Can I submit to the ECST special issue if I withdrew my abstract?
Yes. With the cancellation of this meeting, ECS will allow authors of withdrawn abstracts to submit to the special issue.
I want to be able to still disseminate research from my planned presentation even through the meeting is cancelled. How do I publish other formats of research?
If you are interested in publishing research related to your presentation, but are not interested in submitting to ECS Transactions, ECS is encouraging authors to submit to ECSarXiv, ECS's preprint service. Submissions can be full-text articles, slide presentations, or posters. Be sure to tag your submission with the meeting name "237th ECS Meeting" to make sure it's linked to other meeting content! Find out more, or submit now.
Can I still submit to an ECS journal if I publish in ECST?
Because ECS Transactions is not formally peer-reviewed, there is no conflict should an author wish to submit their work to both ECST and an ECS journal. While the expectation is that six months is sufficient time to revise an abstract and/or ECST paper to meet the stricter standards of the journals, there is no deadline for submission with ECS's continuous journal publication model.
Submissions to the journals must be made using the online submission system. Click here for author instructions and to submit your manuscript.
Question not answered here? Contact the ECST staff at ECST@electrochem.org.