An article by Shelley D. Minteer and Henry White as part of the JES Focus Issue Honoring Allen J. Bard.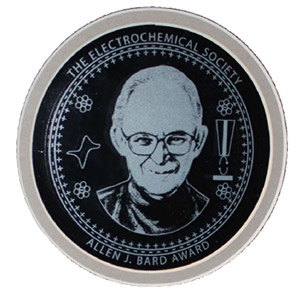 The Electrochemical Society founded the Allen J. Bard Award in 2013 to honor Prof. Allen J. Bard's extensive contributions in the field of electrochemistry, and the first award was given in May 2015 at the ECS meeting in Chicago. In recognition of the establishment of this endowed award, we are delighted to dedicate this special issue of the Journal of The Electrochemical Society to Professor Bard.
Allen was born in New York City in 1933 and obtained his Bachelor of Science degree in Chemistry at City College of New York 1955. He continued his studies at Harvard University under the supervision of James J. Lingane, a renowned electroanalytical chemist, and received a Master's degree in 1956 and a PhD in 1958. He then accepted an instructor position at the University of Texas and quickly moved up the ranks to Professor in 1967.
In the 58 years since arriving in Austin, Allen has mentored over 75 PhD students and 150 post-doctoral fellows. Their combined contributions to the field of electrochemistry are legendary, including electroanalytical techniques for evaluating electrode reaction mechanisms, simultaneous electrochemistry electron spin resonance (SEESR) techniques, nonaqueous solvents for investigating energetic species, electrogenerated chemiluminescence (ECL), polymer modified electrodes, semiconductor photoelectrochemistry, photocatalysis, scanning electrochemical microscopy (SECM), and single-particle collision electrochemistry.
Allen has co-authored more than 950 publications covering all areas of modern electrochemistry, with 125 appearing in the Journal of The Electrochemical Society. With his former student Larry Faulkner, Allen introduced Electrochemical Methods: Fundamentals and Applications in 1980, which remains the most widely used text dedicated to a rigorous education in the theory and application of electrochemistry. Thousands of students worldwide have learned electrochemistry from Electrochemical Methods.
Allen's contributions to the advancement of electrochemistry and science are extraordinary, and his dedication to the advancement of many generations of younger scientists is legendary. If there is a common theme to his work, it is the pursuit of fundamental scientific knowledge and discovery; Allen is a fearless scientist, encouraging young scientists in his laboratory to constantly create and pursue their own ideas and experiments off the beaten path.
The twenty-four research articles in this special issue, many from former students and postdocs, exemplify the numerous topics in electrochemistry that Allen has impacted during his career. It is with great admiration and honor that we are able to recognize the establishment of the Allen J. Bard Award by this collection of articles.