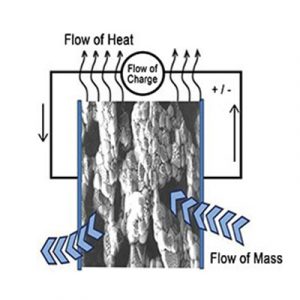 Submission Deadline: October 23, 2019
Submit your manuscripts to the Journal of The Electrochemical Society Focus Issue on Heterogeneous Functional Materials for Energy Conversion and Storage.
About the focus issue
This special issue focuses on Heterogeneous Functional Materials (HeteroFoaMs), which are pervasive in electrochemical devices. These devices consist of multiple materials combined at multiple scales (from atomic to macro) that actively interact during their functional history in a manner that controls their collective performance as a system at the global level. The principal motivation for this special issue will be to provide a forum to discuss the science that controls emergent properties in heterogeneous functional materials as a foundation for design of functional material devices with performance not bounded by constituent properties.
Reviews, perspectives, and research papers are considered in the following topics of interest, but are not limited to:
Novel modeling approaches to elucidate fundamental phenomena in 3-D microstructures
Advanced 3-D imaging and characterization techniques
New constitutive theory to correlate material properties to performance
Advanced material synthesis and manufacturing methods to create highly ordered microstructures
New concepts for the design of novel materials for electrochemical applications
Applications of heterogeneous functional materials in devices for energy conversion and storage
The electrochemical science that makes such technologies work rests on our knowledge and understanding of the science that controls that functionality of such materials, and the design of new HeteroFoaMs to enable new devices, or improve the performance of existing devices.
All papers published in this focus issue will be OPEN ACCESS at NO COST to the authors! *
Submission Deadline | October 23, 2019

Be sure to specify your submission is for the JES Focus Issue Heterogeneous Functional Materials for Energy Conversion and Storage.
Papers accepted for this focus issue are published online within 10 days of acceptance. The issue will be created online as the articles are accepted, with the final article published in April 2020.
---
JES Technical Editors
Doron Aurbach
Bar-Ilan University
doron.aurbach@biu.ac.il
David E. Cliffel
Vanderbilt University
paeepeditor@vanderbilt.edu
Thomas F. Fuller
George Institute of Technology
tom.fuller@chbe.gatech.edu
Guest Editors
Wilson K. S. Chiu
University of Connecticut
wchiu@engr.uconn.edu
Srikanth Gopalan
Boston University
sgopalan@bu.edu
Nian Liu
George Institute of Technology
nian.liu@chbe.gatech.edu
Vito Di Noto
University of Padova
vito.dinoto@unipd.it
Alice H. Suroviec
Berry College
asuroviec@berry.edu
---
*ECS is waiving the article processing charge (APC) as part of the Society's Free the Science initiative.
Find out more about ECS Journal Focus Issues and the ECS Free the Science initiative.