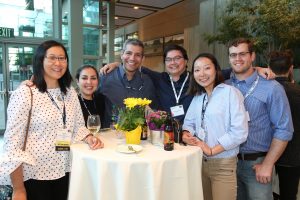 Earlier this year, ECS hosted a membership drive that successfully recruited 167 new and renewed 89 members and student members. We know that recruiting is no easy task.
That's why we are asking for your help!
ECS is challenging our members and student members to recruit a friend to become a new member starting on August 1, 2018.
We are giving away a 2019 biannual meeting registration to recognize the top recruiter's efforts; the second place performer will receive a five-year ECS membership; and, the third place recruiter will receive a three-year ECS membership.
ECS members in good standing will receive weekly recruitment emails throughout the month of August 2018. Recipients should utilize the tactics within the emails to recruit new members to the organization. We will also keep our members updated on the progress of the contest through these communications.

To participate an ECS member must do the following:
Log into your ECS My Account and make sure you are subscribed to Membership Updates in your My Communication Preferences.
Check your inbox on August 1 for an email from Shannon Reed, Director of Membership Services.
The subject of the email will be: ECS Member Recruitment Drive. Forward the email to nonmembers encouraging them to join ECS.
Upon completing their membership payment, recruits will receive a confirmation email from ecs@electrochem.org for their purchase. The new recruit needs to reply to that email, adding the recruiting member's name or ECS member ID number to the top of the text. Recruits have until September 7, 2018, to notify ECS.
Totals will be compiled of all new members who were recruited per ECS members. Recruits who do not report their recruitment to ECS@electrochem.org will not be counted
We will notify the top performers by September 20, 2018. Read the contest rules.
Feel free to contact the director of membership services, Shannon.Reed@electrochem.org, if you have any questions.