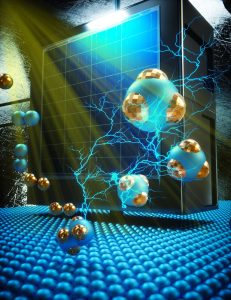 Reza Nazemi
Assistant Professor
Department of Mechanical Engineering and
School of Advanced Materials Discovery
Colorado State University
Date: March 15, 2023
Time: 1300–1400h ET
Sponsors: BioLogic and Gamry Instruments
Register
Storing cheap renewable electricity into chemical bonds (i.e., chemical energy storage) could be a transformative opportunity for long-duration energy storage that can address the intermittency of renewables and balance the mismatch between supply and demand at the grid. The chemical industry primarily consumes fossil feedstock as an energy source, which has been the standard for over a century. A paradigm shift is required to move towards a more sustainable route for chemical synthesis by electrifying and decarbonizing the modern chemical industry. As renewable electricity costs continue to decrease, there is a growing interest in fuels and chemical electrosynthesis. This talk focuses on developing systems, catalysts, and processes to use renewable electricity as an energetic driving force to produce high-value and high-energy molecules that can be utilized as either fuel, energy storers, and/or chemicals. Also discussed are future directions and strategies to manage the carbon, nitrogen, and water cycles, enabling a circular economy, mitigating waste, and promoting sustainability with positive social and environmental impacts through wastewater treatment and paving the way for nutrient recovery and recycling. This research aims to develop next-generation sustainable industrial systems and processes that can aid in the transition to a net-zero-emission energy system and in meeting our world's growing clean energy and water demands.
An interactive Q&A session follows the presentation.
Benefits of attending the webinar
Learn about:
Designing selective catalyst materials at the nanoscale and atomic scale;
Designing various electrochemical reactors with applications in clean energy and water systems;
Advanced in situ and operando spectroscopic techniques to unravel reaction mechanisms and probe active catalytic sites.
Reza Nazemi
Reza Nazemi is Assistant Professor in the Department of Mechanical Engineering and the School of Advanced Materials Discovery at Colorado State University (CSU). His group at CSU focuses on designing and developing systems and materials for clean energy generation and wastewater treatment. In addition, his group leverages advanced spectroscopic and microscopic techniques to gain a mechanistic understanding of photoelectrochemical reactions for sustainable fuel and fertilizer production.
Dr. Nazemi earned his PhD from the Woodruff School of Mechanical Engineering at the Georgia Institute of Technology (Georgia Tech) in 2020, followed by a postdoctoral fellowship there in the School of Chemistry and Biochemistry (2020-2021). From 2021-2022, he was a postdoctoral associate in the Department of Chemical and Environmental Engineering at Yale University. Dr. Nazemi's notable recognition includes the 2022 ECS Colin Garfield Fink Fellowship, 2021 American Chemical Society Physical Chemistry Division Young Investigator Award, and 2018 Amazon Catalyst at ECS award. In 2020, he was the Georgia Tech Technology Innovation: Generating Economic Results Class of 2020 Fellow and received the Georgia Research Alliance Award and Georgia Tech-Oak Ridge National Lab Seed Grant Award.
Learn more about upcoming ECS Webinars and review our previous webinar recordings.
We thank our webinar sponsors who make these complimentary programs possible.
Interested in presenting in the ECS Webinar Series? Email your presentation title and abstract to education@electrochem.org for consideration.