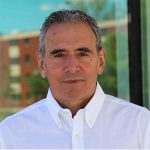 The Journal of The Electrochemical Society is publishing a focus issue in connection with the 242nd ECS Meeting symposium, Critical Factors in Localized Corrosion 10: In Honor of Gerald Frankel.
The focus issue deals with all aspects of localized corrosion with the purpose of summarizing recent advances in fundamental and applied aspects of passivity breakdown, techniques to study initiation and propagation of localized corrosion, the effect of microstructure, advanced materials, as well as mitigation methods for localized corrosion. Papers presenting experimental and theoretical approaches to understanding localized corrosion are welcome. The issue is open to all interested authors who may submit review, critical review, perspective, methods, communication, and original research articles.
Accepting Submissions: October 6, 2022 | Submission Deadline: January 4, 2023
---
Guest Editors
Ingrid Milošev, Jožef Stefan Institute, Slovenia | ingrid.milosev@ijs.si
Rajeev K. Gupta, North Carolina State University, U.S. | rkgupta2@ncsu.edu  
James J. Noël, University of Western Ontario, Canada | jjnoel@uwo.ca
Technical Editor
Sannakaisa Virtanen, Friedrich-Alexander-Universität Erlangen-Nürnberg Germany | virtanen@ww.uni-erlangen.de
Editor-in-Chief
Robert Savinell, Case Western Reserve University, U.S. | rfs2@case.edu
---
Articles are published in a standard issue of the journal as they are accepted. If selected at submission, accepted papers are published online in the ECS Digital Library on IOPscience within 24 hours of scheduling for publication. The version of record is published online within approximately 10 days of final acceptance.
Visit the ECS website for author submission instructions and requirements for each article type.
OPEN ACCESS: Authors choosing to publish open access agree to pay an article processing charge (APC) if their papers are accepted. APCs are discounted by 75 percent for ECS members and waived for authors from ECS Plus subscribing institutions. Check if your institution subscribes to ECS Plus. Discounts are applied at the time of payment.