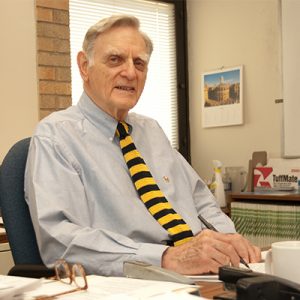 John Bannister Goodenough, internationally recognized as one of the key minds behind the development of the first commercial lithium-ion battery, has been awarded the Royal Society's Copley Medal, the world's oldest scientific prize.
The longtime ECS fellow and honorary member was recognized for his exceptional contributions to the materials science field, still used in mobile electronics today, including laptops and smartphones all around the world. The award ties him to an elite group of equally notable scientists and engineers, including the likes of Benjamin Franklin, Charles Darwin, Louis Pasteur, Albert Einstein, and Dorothy Hodgkin.
"Words are not sufficient to express my appreciation for this award," said Goodenough, in a Royal Society interview. "My ten years at Oxford were transformative for me, and I thank especially those who had the imagination to invite a U.S. non-academic physicist to come to England to be a Professor and Head of the Oxford Inorganic Chemistry Laboratory. I regret that age and a bad leg prevent my travel back to England to celebrate such a wonderful surprise."
Yet, despite the 97-year-old's revolutionary accomplishments, he has no intentions of slowing down.
Goodenough currently serves as the Virginia H. Cockrell Centennial Chair in Engineering at The University of Texas at Austin, where he aims to perfect his lithium-ion breakthrough technology, determined to make the batteries stronger, cheaper, and safer.
Not to mention, he also aspires to liberate society from its dependence on fossil fuels. Although solar and wind power are capable of producing electricity, it must be used immediately—there is no economic stationary battery in which to store the power.
"I want to solve the problem before I throw my chips in," said Goodenough in an interview with Quartz. "I still have time to go."
---
Dive into the latest research and technology in batteries; attend the 236th ECS Meeting's "Batteries and Energy Storage" technical session, taking place October 13-17, 2019 in Atlanta, GA. ECS's biannual meetings offer a great space to meet and share ideas with scientists, engineers, and industry leaders from around the world. Don't miss it!