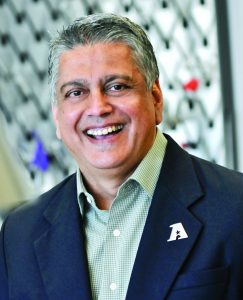 The Electrochemical Society has appointed Krishnan Rajeshwar as the new editor of the ECS Journal of Solid State Science and Technology for a three-year term.
Launched in 2012, the ECS Journal of Solid State Science and Technology focuses on fundamental and applied areas of solid state science and technology including experimental and theoretical aspects of the chemistry and physics of materials and devices. The journal's technical scope covers (1) carbon nanostructures and devices, (2) dielectric science and materials, (3) electronic materials and processing, (4) electronic and photonic devices and systems, and (5) luminescence and display materials, devices, and processing.
Rajeshwar is a distinguished university professor at University of Texas at Arlington. He is also the founding director of the Center for Renewable Energy and Science Technology (CREST) on campus.
A current ECS fellow, Rajeshwar served as president of the Society from 2016 to 2017. Over the course of his time with ECS, he also served as the editor of Interface (the Society's quarterly magazine), as an elected officer, and as a member of numerous ECS committees.
In 2009, Rajeshwar received the ECS Energy Technology Division Research Award, which recognizes outstanding and original contributions to the science and technology of energy-related research areas that include scientific and technological aspects of fossil fuels and alternative energy sources, energy management, and environmental consequences of energy utilization.
Rajeshwar's research interests span a wide spectrum that includes photoelectrochemistry, solar energy conversion, renewable energy, materials chemistry, semiconductor electrochemistry, and environmental chemistry. He has authored monographs and edited books, special issues of journals, and conference proceedings on energy conversion. He is the author of over 350 refereed and well-cited publications and has served on the editorial boards of several electrochemical journals.
ECS is currently publishing papers in the Journal of The Electrochemical Society Focus Issue on Semiconductor Electrochemistry and Photoelectrochemistry in Honor of Krishnan Rajeshwar. At the 235 ECS Meeting in Dallas, TX, a symposium will be held in Rajeshwar's honor.
Rajeshwar's paper "Review—Copper Oxide-Based Ternary and Quaternary Oxides: Where Solid-State Chemistry Meets Photoelectrochemistry" is among the most-downloaded Journal of The Electrochemical Society articles by topical interest area during the third quarter of 2018 (July through September). Get the full list of articles, all of which are open access, here.
And hear some of Rajeshwar's thoughts on renewable energy on the ECS podcast below.
Listen to the podcast and download this episode and others for free through the iTunes Store, SoundCloud, or on Stitcher.