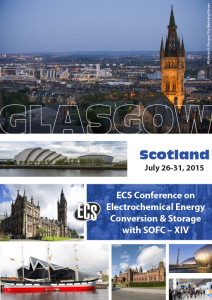 The ECS Conference on Electrochemical Energy Conversion & Storage with SOFC-XIV convening in Glasgow, Scotland at the Scottish Exhibition and Conference Centre from July 26-31, 2015 is the first of a series of planned biennial conferences in Europe by ECS on electrochemical energy conversion/storage materials, concepts, and systems.
We are creating a forum where scientists and engineers can come together and discuss fundamental advances and engineering innovations.
Abstracts are due February 20, 2015
Find out more about submitting your abstract today!
The lead organizers of this conference are among the top researchers in their respective fields. We wanted to take a moment to introduce them to you: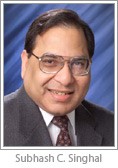 Subhash C. Singhal, Pacific Northwest National Laboratory
Solid Oxide Fuel Cells
Dr. Subhash C. Singhal is presently a Battelle Fellow Emeritus at the Pacific Northwest National Laboratory (PNNL). From 1971 to 2000, he worked at Siemens Power Generation (formerly Westinghouse Electric Corporation), where he conducted and/or managed major research, development, and demonstration programs for various energy conversion systems. From 1984 to 2000, he was manager of Fuel Cell Technology there, responsible for the development of solid oxide fuel cells for stationary power generation. From 2000 to 2011, he was at PNNL as a Battelle Fellow and Director-Fuel Cells, and provided senior technical, managerial, and commercialization leadership to the Laboratory's extensive fuel cell programs.
Dr. Singhal is a member of the U.S. National Academy of Engineering and the Washington State Academy of Sciences; a Fellow of four professional societies (American Ceramic Society, The Electrochemical Society, ASM International, and American Association for the Advancement of Science); and a senior member of the Mineral, Metals & Materials Society (TMS). He serves on the Editorial Boards of several scientific journals, Advisory Boards of several universities and institutes, and on many national and international advisory panels. He also served on ECS's Board of Directors during 1992-1994 and continues as the Chairman of its International Symposium on Solid Oxide Fuel Cells held biennially since 1989.
Dr. Singhal has received many awards including the Outstanding Achievement Award in High Temperature Materials of the Electrochemical Society, the Edward Orton Jr. Memorial Award of the American Ceramic Society, Invited Professorship Award from the Japan Ministry of Science, Education and Culture, Christian Friedrich Schoenbein Gold Medal of the European Fuel Cell Forum, the Fuel Cell Seminar Award, and the prestigious Grove Medal for sustained advances in fuel cell technology.
The co-organizer is Professor Koichi Eguchi of Kyoto University, Kyoto, Japan.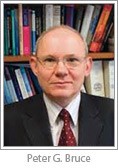 Peter G. Bruce, University of Oxford
Batteries
Peter G. Bruce, FRS, FRSE, FRSC, is Wolfson Professor of Materials at the University of Oxford. His research interests embrace materials chemistry and electrochemistry, especially lithium and sodium batteries.
Recent efforts have focused on the synthesis and understanding of nanomaterials for lithium-ion batteries, including nanowire/nanotube intercalation anodes and mesoporous cathodes, the challenges of the lithium-air battery and the influence of order on the ionic conductivity of polymer electrolytes.
His research has been recognized by a number of awards and fellowships, including from the Royal Society, the Royal Society of Chemistry, the German Chemical Society and ECS. He was elected to the Royal Society (UK Academy of Sciences) in 2007 and the Royal Society of Edinburgh (Scottish Academy of Sciences) in 1994.
The co-organizers are Clare Grey – Cambridge University, Stefan Freunberger – Graz University of Technology, Austria, Jie Xiao – Pacific Northwest National Laboratory.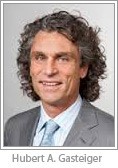 Hubert A. Gasteiger, Technische Universität München, Germany
Low Temperature Fuel Cells
Professor Hubert A. Gasteiger began his career in 1993 studying electrocatalysis of methanol oxidation at the University of California at Berkeley while obtaining his PhD. He went on to conduct nine years of academic research on electrocatalysis and heterogeneous gas-phase catalysis at UC Berkeley, the Lawrence Berkeley Laboratory, and Ulm University.
Prof. Gasteiger then spent 10 years working in the industry, leading the fuel cell stack materials development for GM/Opel's Hydrogen-powered fuel cell vehicles until 2007 when he joined Acta S.p.A. (Italy) as Director of Catalyst Technology, where he developed catalysts and electrodes for alkaline fuel cells and electrolyzers.
In 2009 he took an assignment as Visiting Professor at MIT and is now the Chair of Technical Electrochemistry at Technische Universität München, where he works with electrocatalysis and batteries.
Since joining ECS in 1989, Prof. Gasteiger has been inducted as a Fellow (2011) and received the Norman Hackerman Young Author Award in 1994. He is currently the Chair of the Low Temperature Fuel Cells Coordinating Committee at ECS.
The co-organizers are Deborah Jones – CNRS, Université Montpellier, France, Thomas Schmidt – Paul Scherrer Institut, Switzerland, Juan Herranz – Paul Scherrer Institut, Switzerland.
Exhibit and sponsorship opportunities.