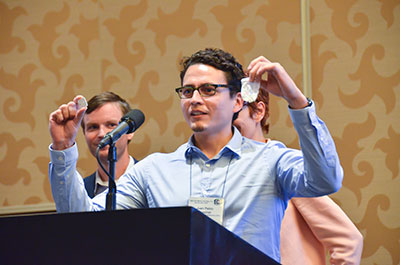 In its first Science for Solving Society's Problems Challenge, ECS partnered with the Bill & Melinda Gates Foundation to leverage the brainpower of electrochemists and solid state scientists, working to find innovative research solutions to some of the world's most pressing issues in water and sanitation. A total of seven projects were selected, resulting in a grand total of $360,000 in funding.
The researchers behind one of those projects recently published an open access paper in the Journal of The Electrochemical Society discussing their results in pursuing a single-use, biodegradable and sustainable battery that minimizes waste. The paper, "Evaluation of Redox Chemistries for Single-Use Biodegradable Capillary Flow Batteries," was published August 18 and authored by Omar Ibrahim, Perla Alday, Neus Sabaté, Juan Pablo Esquivel (pictured with prototype at right), and Erik Kjeang.
"The market demand for small-size single-use electronic devices such as portable sensors and diagnostic devices has been rising drastically in recent years," the authors state in their paper. "The power needs of such devices have so far been met by Li-ion batteries and other primary battery technologies, resulting in a consequent rise in their consumption. These batteries often contain heavy metals and strong electrolytes which make them one of the most hazardous components of electronic waste."
The battery, which is made of organic materials such as cellulose and beeswax, can simply be disposed of in an organic waste container or even discarded in a field after use due to its biodegradability. This helps combat environmental issues surrounding the improper disposal in traditional lithium-based batteries used in many single-use applications. According to the researchers, batteries such as those used in medical devices, where there are modest capacity requirements and no need for long discharge times, are often disposed of before they are fully discharged. The cost of extracting those unused materials, however, is not sustainable.
"These issues trigger a worrying concern about associated future environmental hazards from the battery waste generation and urgently call for novel alternatives, tightened environmental policies and switching the linear consumption habit of 'take-make-dispose' for these primary batteries into a circular economy model," the authors say. "This approach utilizes novel concepts such as green electronics and cradle-to-cradle design to eliminate waste from the conception of new devices as a top priority considering the waste hierarchy."
Read "Evaluation of Redox Chemistries for Single-Use Biodegradable Capillary Flow Batteries" to learn more about the research team's full work.