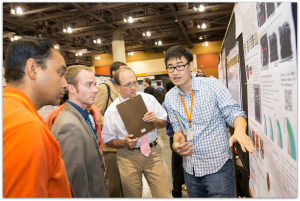 Over 2,080 people from 46 different countries attended the 228th ECS Meeting in Phoenix, Arizona, October 11-15, 2015. This was ECS's first return visit to Phoenix since 2008. Participants could choose among 1,977 presentations.
Check out tons of photos from the meeting on our Facebook page.
Plenary Session
ECS President Daniel Scherson opened the meeting with an update on the Society's Free the Science initiative, a major endowment campaign allowing all ECS content to be open access—providing it at no cost to anyone—free to all authors, readers, and libraries. Attendees also got some insight into the fifth international ECS Electrochemical Energy Summit and a look at the Society's plans for Open Access Week.
The ECS Lecture
"Wealth, Global Warming and Geoengineering" was the title of the ECS Lecture given by Adam Heller, Research Professor and Professor Emeritus at the University of Texas at Austin's McKetta Department of Chemical Engineering. His talk focused on the underlying cause of the rapid rise in carbon dioxide emissions and increased energy consumption, which Heller states is due to the rise in global wealth and growth of the world's population. Additionally, Heller stressed the need for research and development in areas of geoengineering—specifically altering the albedo to reflect more sunlight and iron fertilization of the southern oceans—in order to stop the ever-increasing effects of climate change.
---
Electrochemical Energy Summit
The fifth international ECS Electrochemical Energy Summit (E2S) took place during the 228th ECS Meeting. The main topic was solar critical issues and renewable energy. Acknowledging population and industrial growth paired with economic and environmental issues, E2S was designed to foster an exchange between leading policy makers and energy experts about society's needs and technological energy solutions.
Franklin Orr, U.S. Under Secretary for Science and Energy, delivered the keynote address. His talk set the tone for the summit, focusing on environmental security, the critical role of energy storage, and how we can move towards a more sustainable future.