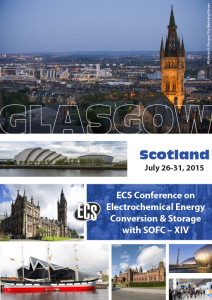 The ECS Conference on Electrochemical Energy Conversion & Storage with SOFC-XIV is an international conference convening in Glasgow, July 26-31, 2015, and is devoted to the following areas:
Section A: Solid Oxide Fuel Cells (SOFC-XIV)–All aspects of research, development, and engineering of solid oxide fuel cells
Section B: Batteries–A wide range of topics related to battery technologies
Section C: Low Temperature Fuel Cells–Low-temperature fuel cells, electrolyzers, and redox flow cells
This is the first of a series of planned biennial conferences in Europe by The Electrochemical Society on electrochemical energy conversion/storage materials, concepts, and systems, with the intent to bring together scientists and engineers to discuss both fundamental advances and engineering innovations.
This major international conference will be held at the Scottish Exhibition and Conference Centre in Glasgow and includes a full day of short courses followed by a Sunday evening welcome reception, technical presentations scheduled Monday-Friday, a dynamic technical exhibit, poster sessions, guest and award winning lecturers, and much more.
Please visit the Glasgow meeting page for the most up-to-date information regarding hotel accommodations, registration, short courses, special events and to review the online technical program.
Important Deadlines
Friday, February 20, 2015 – Deadline for submitting your abstracts. Submit now.
Take advantage of exhibition and sponsorship opportunities, submit your application by April 24, 2015.
Discounted hotel options will be available until June 15, 2015 or until the blocks sell out, reserve early!
Early-bird registration opens in March 2015, early-bird pricing will be available through June 15, 2015.
PS: Don't forget, as a meeting attendee you are eligible for an Article Credit which allows you to publish a paper with ECS as Open Access with no further payment from either you or your institution. Find out more!