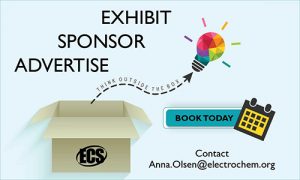 Sponsoring events at the digital 240th ECS Meeting gives brands visibility and reinforces industry leadership positions.
Sponsor the Plenary Session to stand out at the most highlighted technical event.
Kick off the meeting with your brand front and center at the Opening Ceremony.
Advertise in the online program to plug into the global digital reach of 8,000+ ECS members.
Don't miss out!
Contact Anna Olsen at sponsorship@electrochem.org  today!
For more information about Exhibiting, Sponsoring and Advertising with ECS, consult ECS Corporate Opportunities webpage.