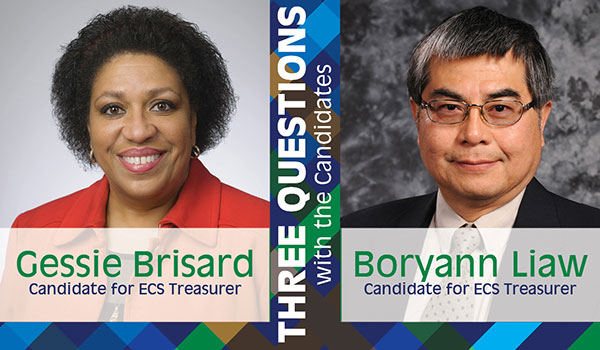 The 2018 Society elections are upon us and ECS wants you to learn more about the candidates, from the candidates. All voting members are eligible to participate via electronic proxy. You would have received an email with voting instructions January 15, 2018.
About ECS elections
The early months of each year are an exciting time here at ECS as officer elections take place via electronic proxy in the two-month period from January 15 to March 15, 2018. Elected officers constitute the organization's executive committee and include the following positions: president, three vice presidents, secretary, and treasurer. The nominating committee determines the candidates and you determine the winner.
Three Questions with the Candidates allows you a personal glimpse of each volunteer on the current ballot. There is a total of five candidates (one for president and two each for vice president and treasurer). Take a moment to read the full candidate biography and election statement. And then enjoy their reflections on ECS and the marvel that is science.
---
Three questions with GESSIE BRISARD and BORYANN LIAW, candidates for treasurer of ECS.
Office of the treasurer
The treasurer will acquire knowledge of all Society functions (publications, meetings, and constituent services areas, awards programs, committee interaction, Bylaws, etc.) with oversight of the financial affairs of the Society, divisions, and sections. The treasurer should possess (1) financial background such as responsibility for budgetary allocations or concerns within a department or group; (2) the ability to digest and assess the contents of the financial documents of the Society; and (3) ability to focus on the overall and long-term financial health. The treasurer reports to the ECS Board of Directors at its meetings and to the voting members at the Annual Business Meeting on our financial condition, and makes recommendations to safeguard or improve it.
We urge you to cast your vote today!
PS: Listen to our three question segments with the candidates for president and vice president.