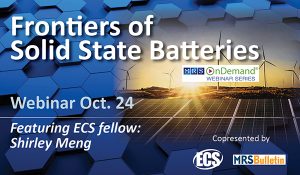 The Electrochemical Society and Materials Research Society are co-presenting a webinar on Frontiers in Solid State Batteries on Wednesday, October 24, 2018, from 1200-1330h ET.
ECS fellow, Shirley Meng, will be a presenter during the webinar. Jagjit Nanda of Oak Ridge National Laboratory will serve as the host for the webinar.
Webinar description
The advantages of solid state batteries were not fully recognized until the 1960s, with the discovery of beta-alumina, which led to the development of the commercially relevant high-temperature Na-S battery in the 1960s and the ZEBRA battery in the 1980s. The October issue of MRS Bulletin focuses on recent developments in solid ion-conductors and the various surface and interfacial challenges needed to be overcome for enabling solid-state batteries.
Visit the Frontier in Solid State Batteries webpage to register. Pre-registration for the event is required.
Learn more about other educational opportunities at ECS Continuing Education.