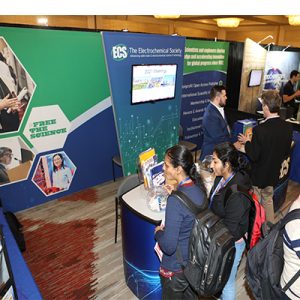 Visit ECS at our exhibit booth in 2020!
Stop by the ECS booth on the exhibit floor to engage and discover more about the programs and services available to you. Representatives from ECS staff will be available at various times to answer your questions.
Learn more about:
− Individual and institutional membership at ECS
− How to publish in an ECS journal or become a peer reviewer
− Upcoming ECS biannual and sponsored meetings
− Exhibit, sponsorship, and advertising opportunities
− How to publish a book or conference proceedings with ECS
− Free the Science initiative
− Awards, educational programs, and much more!
NACE
Corrosion 2020
June 14-18, Houston, TX, USA
IMLB
20th International Meeting on Lithium Batteries
June 20-26, Berlin, Germany
ACS
American Chemical Society Fall Meeting
August 16-20, San Francisco, CA, USA
ECS
PRiME 2020
October 4-9, Honolulu, HI, USA
AIChE
2020 AIChE Annual Meeting
November 15-20, San Francisco, CA, USA
MRS
MRS Fall Meeting & Exhibit
November 29-Dec. 4, Boston, MA, USA