Leveraging electrochemistry to beat diabetes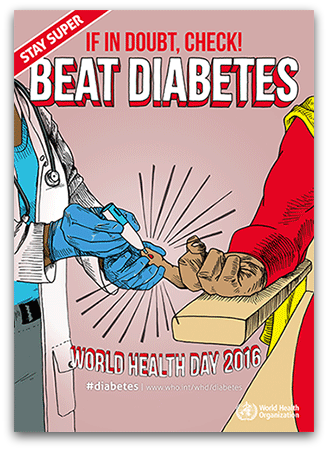 This year's World Health Day focuses on diabetes and reducing the burden of a disease that affects over 420 million people worldwide. To put that in perspective, that number rested at 180 million in 1980. It is expected to more than double within the next 20 years.
So how can we beat diabetes? Well, electrochemistry has the potential to play a rather large role in halting the rise of this disease that kills 1.5 million people each year.
A pioneer in diabetes management
Meet Adam Heller, electrochemist and inventor of the FreeStyle and FreeStyle Libre systems; glucose monitoring devices that changed diabetes management technology.
"People were pricking their fingers and taking large blood drops," Heller, ECS honorary member, said. "It was painful: get a strip, touch it, get a blood sample, measure the glycemia (the blood glucose concentration)."
Around 20 years ago, Heller decided to address the pressing issue of how to accurately, easily, and affordably monitor blood glucose levels. As an electrochemist, he took his work in the electrical wiring of redox enzymes and began to apply it to glucose and diabetes management.
"[My son] observed that if he pricks his skin in the arm, he can painlessly get a much smaller sample of blood," Heller, who was awarded the National Medal of Technology and Innovation for his efforts in diabetes management technology, said. "By pricking his finger, he got, painfully, a large drop of blood. So he asked me, 'Can we make a sensor for such a small sample of blood?' I knew that it could be done if I used a small enough electrode."
Changing the industry
From this, the Freestyle system was born. The FreeStyle was the first diabetes monitoring system that could accurately monitor the glucose concentration painlessly in just 200 nanoliters of blood, making it the highest impact nanotechnology or micro-fluidic device to date.
Now, two decades later, Heller is applying electrochemistry once again in a completely novel way to monitor blood glucose levels. This time, no blood is required.
The new device, called the FreeStyle Libra, is just hitting the markets. The FreeStyle Libra is a biomedical device that consists of a patch applied to your skin and the painless application of electrodes directly under the skin that continuously monitor glucose without patients needing to draw blood. The device is so accurate that you don't even need to confirm its results for a finger stick.
"What pleases me, personally," Heller said, "is that the product will be sold at a price that will be no higher than the strips."
Affordable, effective care
And price is key to developing a successful means of monitoring diabetes. According to the World Health Organization, low- and middle-income countries are hit the hardest when it comes to deaths caused by diabetes. One way to combat this issue is through the accurate, affordable monitoring of the disease.
"If people don't [monitor their diabetes], they go blind, they lose their kidneys, they develop neuropathy, their legs are amputated," Heller said. "It can become a horrible disease if they don't monitor their blood sugar."
Biomedical applications of electrochemistry
But Heller is not alone in his endeavor to help alleviate the impact of diabetes worldwide. In fact, he's among many electrochemists that are developing better devices to monitor and administer treatments.
Recently, scientists began working with graphene to develop patches that can both continuously monitor glucose levels and instantly administer treatment when necessary. Additionally, a recent paper published in the ECS Journal of Solid State Science and Technology detailed novel developments in sensor technology to create an improved type of glucose sensor for those with juvenile diabetes. That research could open the door to more cost effective and comfortable sensors with even higher accuracy.
You can find novel biomedical developments throughout the field of electrochemistry. From Fan Ren's cheap sensor that detect breast cancer to Esther Takeuchi's breakthrough developments in life-saving batteries for the implantable cardiac defibrillator, ECS scientists around the world are working to develop next-generation technology.
Open science
Here at ECS, we hope to make these life-saving innovation more easily accessible by removing barriers to scientific knowledge through our Free the Science initiative.
We believe that science needs to be open to all – authors and readers alike. ECS stands behind the idea that discoveries need discoverability. Science means progress, and progress means finding solutions to some of our world's most pressing problems, including global diabetes management and solutions. The research that ECS stewards and publishes can help find these solutions.
Learn more about our Free the Science campaign.