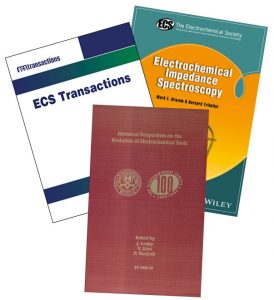 Attending the 233rd ECS Meeting in Seattle, WA? ECS will have a number of high-value publications available for purchase at the registration desk during the meeting, including a special ECS proceedings volume that you could get signed by ECS President Johna Leddy!
Registration will be located in the sixth floor lobby of the Washington State Convention Center and will be open during the following hours:
Sunday | 0700-1900h
Monday | 0700-1900h
Tuesday | 0700-1730h
Wednesday | 0700-1600h
Thursday | 0700-1200h
Visit the customer service counters at registration to make a purchase.
Special proceedings volume
One of the Society's most historically significant texts will be available for purchase at the discounted, limited-time price of $15.00.
In this special volume, scientists who were instrumental in driving the evolution of electrochemistry over the last 50 years present its history. The volume compiles the thoughts of 21 scientists. It contains 5 articles derived from presentations on the history of electrochemistry given at the centennial meeting of the Society (B. Conway, A. T. Hubbard, W. R. Heineman, D. M. Kolb, and R. W. Murray) and 16 articles that are generally shorter commentaries on specific areas of electrochemistry. Chapters vary in content and perspective, but remain both entertaining and informative.
NEW THIS MEETING: After you've purchased your copy at registration, stop by the ECS exhibit booth on Tuesday night, 1900-2000h, to get your book signed by ECS President Johna Leddy! The ECS booth will be located in Ballroom 6ABC of the Washington State Convention Center.
All proceeds from the sale of this publication will be put toward ECS's Free the Science Fund.
Want to support Free the Science today? Donate now!
Monographs
ECS's two latest monographs will also be available for purchase on-site.
This monograph presents a comprehensive look at atmospheric corrosion, combining expertise in corrosion science and atmospheric chemistry.
This monograph provides fundamentals needed to apply impedance spectroscopy to a broad range of applications with emphasis on obtaining physically meaningful insights from measurements.
ECS Transactions
Twelve newly published issues of ECS Transactions will be available for purchase at registration in instant-download, electronic (PDF) format. These issues contain papers that will be presented during the meeting.
Don't want to wait to access essential meeting research? You don't have to.
ECST volume 85, issues 1 to 12 can be accessed online now through the ECS Digital Library. Browse the issues.
The issues are also now available for purchase as electronic (PDF) editions through the ECS Online Store:
Interested in membership discounts on publications like these? Consider joining ECS. Generous discounting is just one of the many benefits of ECS membership.
Come browse our selection in Seattle!