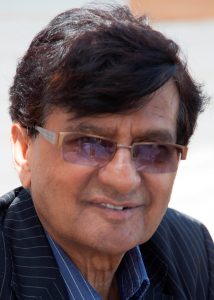 Earlier this year, the ECS Canada Section recognized a winner of its Electrochemical Award for the first time in eight years. Please congratulate Ashok Vijh.
Ashok Vijh is Maître-de-Recherche at the Institut de recherche d'Hydro-Québec and, concurrently, Invited Professor at the National Institute of Scientific Research (INRS) of Université du Québec.
Vijh is an electrochemist of international stature who has published over 380 refereed papers and seven books on various areas of interfacial electrochemistry. His original and extensive research contributions have advanced the following areas: the conversion and storage of energy (electrocatalysis, fuel cells, batteries, photoelectrochemical cells, and hydrogen economy), corrosion, and oxidation of metals.
Particularly noteworthy is his seminal work on the mechanisms of a large number of electrode reactions involving surface films—based on his theoretical insights on 'demetallized' surfaces where solid-state properties of passive layers (including those on the battery electrodes, now so-called 'solid-electrolyte interphases') control the kinetics of charge transfer. His path-breaking work on electrochemical reactions across metal/plasma, metal polymer, and metal/dielectric interfaces, as well as the electrochemical treatment of cancerous tumours, is of extraordinary originality.
Vijh's distinctions are many. He is a Fellow of The Royal Society of Chemistry, The Institute of Physics, The American Physical Society, and Institute of Electrical and Electronic Engineers. His academy memberships include The Royal Society of Canada, where he served as president of its Academy of Science from 2005 to 2007; The World Academy of Sciences; European Academy of Sciences, Arts and Letters; and the Indian National Science Academy.
He was the youngest winner of the I.W. KILLAM Memorial Prize of The Canada Council (1987)—the highest Canadian prize in any field of science. He was the first physical scientist to become a Knight of the National Order of Quebec in 1987, promoted to the rank of Officer in 2008. He was decorated as an Officer of the Order of Canada in 1990. He received the Golden Jubilee Medal (2002) and the Diamond Jubilee Medal (2012) from Her Majesty Queen Elizabeth II. In 2017, he was made a Knight of the Order of Montreal.
---
The Canada Section has four awards that are part of the ECS Honors and Awards Program, one that has recognized accomplishments of those in our multi-disciplinary for decades.