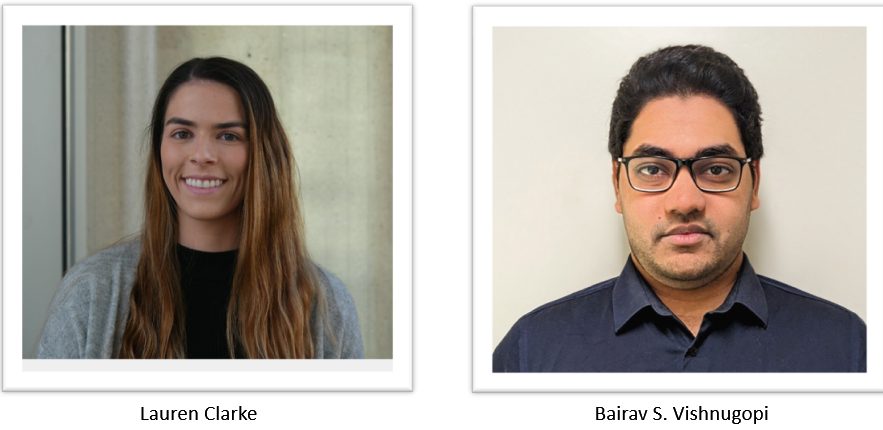 Congratulations to the 2023 Industrial Electrochemistry and Electrochemical Engineering Division student award winners – Barirav Sabarish Vishnugopi and Lauren Clarke. Keep reading to learn more about the winners!
Award winner: Lauren Clarke
Lauren Clarke is a PhD candidate in the Department of Chemical Engineering at the Massachusetts Institute of Technology (MIT). As a member of Prof. Fikile Brushett's research group, she uses a combination of modeling and experiments to understand the impact of material properties and operating parameters on the performance of electrochemical CO2 separation systems. More generally, her work articulates key technical metrics for efficient, durable, and economically feasible CO2 separations.
Clarke received her MS in Chemical Engineering Practice from MIT in 2020, where she completed a one-semester industrial internship at the Shell Technology Center and Emirates Global Aluminium. She received her BS and MSc in Chemical Engineering from the University of North Dakota (UND) in 2016 and 2018, respectively. Her MSc research under Prof. Gautham Krishnamoorthy focused on implementing high-performance preconditioners and solvers into a multiphase flow simulation code to reduce computation time and improve performance. At UND, Clarke was a student athlete and four-year member of the women's volleyball team.
Lauren was recognized at the 243rd ECS meeting in Boston, MA, where she delivered her award lecture entitled "Quantifying Energy Losses in Electrochemical Carbon Capture Systems" on May 29, 2023.
---
Award winner: Bairav Sabarish Vishnugopi
Bairav Sabarish Vishnugopi is a PhD candidate in the School of Mechanical Engineering at Purdue University. His research in Purdue's Energy and Transport Sciences Lab (ETSL) focuses on understanding the physicochemical phenomena and coupled mechanistic processes influencing the electrochemical performance, degradation, and safety of Li-ion and beyond Li-ion chemistries. Part of his PhD research examines the electrochemical, transport, mechanics, and thermal interactions in various battery systems, including Li-ion, Li-sulfur, and solid state Li-metal batteries. A major focus of his research is investigating the origin and propagation of disparate failure modes in Li-metal batteries. His work on Li-metal batteries with liquid electrolytes interrogates the chemo-mechanical and transport mechanisms underlying the growth of dendrites and solid electrolyte interphase failure. In the context of solid state batteries, he has analyzed a wide range of degradation modes, including filament evolution, contact loss, and interphase growth, and developed a systematic connection to fundamental descriptors involving the morphological, kinetic, and thermal stability of solid-solid interfaces. Specifically, his research aims to decipher the role of such degradation pathways under operational extremes like fast charging. He has published over 20 journal papers on different energy storage topics and received the R. H. Kohr Graduate Student Fellowship in Mechanical Engineering for his research contribution through physics-based modeling, simulation, and analysis.
Bairav's award lecture, "Mechanistic Analysis of Interface Stability in Solid-State Batteries," was delivered at the 243rd ECS Meeting in Boston, MA, on May 30, 2023.
---
2024 IE&EE Student Awards
The IE&EE Division student awards recognize and reward promising young engineers and scientists in the field of electrochemical engineering and applied electrochemistry.
Nominations are now being accepted through September 1, 2023, for the 2024 awards. Learn more details about these awards by clicking on the award name above and nominate deserving students today!
---
ECS Honors & Awards Program
ECS recognizes outstanding technical achievements in electrochemistry and solid state science and technology through its Honors & Awards Program. These awards, grants, and fellowships are an opportunity to highlight contributions by many deserving members of our scientific community.
For more information about ECS Society, Division, Section, and Student Awards, email awards@electrochem.org.