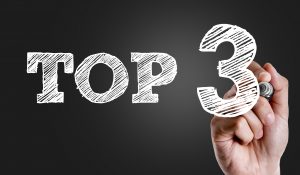 ECS has so much to offer. So much so, it can be overwhelming. Don't worry. We've got you covered. This week, we bring to you the top 3 things not to be missed at ECS:
1. AiMES 2018
Are you a foodie? Like to dance? Enjoy meeting interesting people? (And I mean, interesting.) Need a getaway but are also busy building a name for yourself in your field? AiMES 2018 offers all that and more.
With less than two weeks away, AiMES acts as a central meeting spot for scientists and engineers from around the world to meet and mingle, all just feet away from the sandy white shores of the Gulf of Mexico. Rub elbows with leading researchers and rising stars of the electrochemical and solid state science fields while taking in the salty, tropical Cancun breeze.
Attend the student mixer, mingle with researchers with similar scientific interests, professional goals, and interests. Make new friends and connections while enjoying food and refreshments, all in the comfort of a relaxed, informal setting.
Gain career building skills by attending our professional development workshops offered by experts with firsthand experience in topics like leading teams, employment success, and more. Attend award presentations and meet the innovators and leaders of tomorrow. Update your resume, renew your Linkedin picture with a complimentary professional portrait, and stop by the technical exhibit and poster sessions to chat with researchers themselves about their latest work. And if you're looking for a pick-me-up between all the fun, we've got you covered. Pick up a cup of coffee and stretch your legs with other attendees at one of the many coffee and networking breaks offered.
To top it all off, end the week off right and dance the night away at the Cena Baile (dinner dance). All while indulging in on flavorful, local Mexican cuisine as you enjoy live music under the tropical night sky. A well-earned treat after a full week of technical sessions.
I know what you're thinking. The answer is "yes," there's still time to register. Visit AiMES 2018 for more information.
2. 235th ECS Meeting
ECS is now accepting abstracts for 235th ECS Meeting in Dallas, Texas from May 26-30, 2019. Submit your abstract by December 14, 2018. Don't miss your chance to become an exhibitor or sponsor of this international five-day event!
3. Electrochemical Conference on Energy and the Environment 2019
Abstract submissions for the ECEE 2019 is now open! This meeting will be held in the green, lush city of Glasgow, Scotland from July 21-26, 2019, focusing in on electrochemical energy conversion/storage materials, concepts, and systems, and including poster sessions and oral presentations on the above topics throughout the week. Submit your abstract by January 4, 2019, and keep tabs on the latest meeting updates and news online.
As always, stay informed on all ECS happenings at electrochem.org.