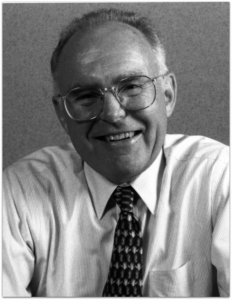 The iconic Moore's Law will mark its 50th anniversary this Sunday, April 19th. In celebration, we'll be taking a look at the solid state revolutionary who made the incredible prediction, the inception of the law, and the deep-rooted links between Gordon Moore and The Electrochemical Society.
The initial transformation in the electronics industry began with an invention at Bell Labs in late 1947 of a little device known as the transistor. The transistor acted as a catalyst of change not only for solid state science and the electronics industry, but also for the composition and spirit of ECS membership—which would begin to be centered on the Electronics Division.
Prior to this solid state surge, electronics—specifically the Electronics Division at ECS—was centered on topics such as phosphors and cathode ray tubes in light of the advent of television. Moore joined ECS in 1957 and helped transform the division into something new—something exciting.
In April of 1964, Moore found himself musing about the future of integrated electronics in an internal document for Fairchild Semiconductor. By 1965, Moore proposed that the number of transistors on an integrated circuit would double every year (later revised to every 18 months).
Today, 50 years later, Moore's Law still drives the continuing remarkable achievements in the field of solid state devices.
And 58 years later, Moore is still a member of ECS—now with an award in his name to honor scientists and engineers making distinguished contributions to the field of solid state science. Winners of  this prestigious award have included solid state and semiconductor pioneers such as Jerry Woodall, Bruce Deal, and Nick Holonyak. This year, Yue Kuo will accept the award at the 227th ECS Meeting in Chicago.
And while our interview with Moore from the spring 1997 issue of Interface may seem dated, his words still ring true:
"I can't imagine a more exciting industry to have had a change to grow up in. The rate of change has been phenomenal and I don't think we're done yet. I think the impact of our new developments will go on for a fairly long time. We have a fair ways to go just to continue to push the technology to smaller and smaller things, higher and higher performance. The people who use that technology to make products will then have billions of transistors on a chip to work with, and that gives them almost open-ended possibilities."
-Gordon Moore
---
Check out some historic ECS gems on Moore, the semiconductor, Fairchild, and more!
[Sources:
Interface,
6
(1) &
The Electrochemical Society 1902-2002: A Centennial History
]
PS: The Chemical Heritage Foundation will be releasing an exclusive interview with Moore himself on Friday! Check out the preview below: