Nominations sought for 2022 speakers
The ECS San Francisco Section hosted its Inaugural Young Investigator Lecture Series on November 19, 2021. Over the course of the three-hour virtual session, attendees were treated to 10 short presentations by senior graduate students and postdocs from California universities. The talks covered a wide range of electrochemistry research, from lithium-ion batteries to CO2 reduction, fundamental examinations of ion transport, and charge transfer kinetics.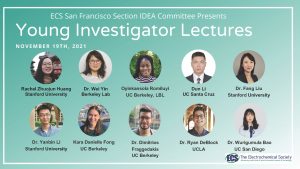 Filling the pandemic-related void of in-person conference opportunities
The past two years have seen a pandemic-induced dearth of in-person conferences, which young scientists rely on to build their professional networks and establish themselves in the scientific community. This lecture series endeavored to provide such a forum virtually. To attract the broadest audience possible, it was open to the public with no registration required. We were proud to host this forum for a wide range of interested attendees, and facilitate an engaged, frank and open discussion of cutting-edge electrochemistry research.
Nominate next series' speakers
The ECS San Francisco Section expects to host such lectures on a regular basis, establishing the series as a forum for young researchers and a window into the future of electrochemistry. The section is accepting nominations for speakers for the second Young Investigator Lecture Series, which will be presented in early 2022.
Nomination and application instructions
Professors and/or advisors can nominate speakers.
Speakers may nominate themselves.
Nominations or applications must include the nominee's name, affiliation, contact information, and tentative lecture title.
Send nominations or applications via email to sfsectionecs@gmail.com,or gliu@lbl.gov.