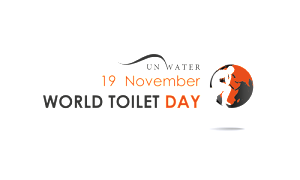 Here at The Electrochemical Society, we give a crap about sanitation. With our recent partnership with the Bill & Melinda Gates Foundation – which awarded $210,000 in seed funding to innovative research projects addressing critical gaps in water and sanitation – we've spent a great deal of time these past few months talking about poop.  We plan to keep that trend alive, which brings us to World Toilet Day.
Two and a half billion people – 36 percent of the world's population – don't have access to a toilet, according to UNICEF. Globally, more people have mobile phones than toilets. Most people in developed countries think of access to adequate sanitation as a right rather than a privilege.
For this reason, ECS hosted the Electrochemical Energy and Water Summit, where some of the brightest minds in electrochemical and solid state science came together to brainstorm innovative ways to address the global sanitation crisis. We're not just flushing and forgetting, we're attempting to make adequate sanitation a basic human right.
The Threat
The issue of proper sanitation is something that is often overlooked or just not talked about. The reality is that one billion people are forced to practice open defecation around the world, which can cause a host of diseases ranging from typhoid to hepatitis.
While diarrhea may not be life threatening in developed nations, globally 500,000 children die every year from it due to drinking unsafe water and lacking access to proper sanitation.
Women are also particularly at risk, with one out of every three women worldwide risking shame, harassment and even attack because she has nowhere safe to go to the toilet.
Working toward a Solution
While it's true that everybody poops, not everybody has a place to do so.  At ECS, we're working to break the silence. Along with the completion of the first "Science for Solving Society's Problems Challenge," ECS is also moving toward open access publication. With this move, scientific research results will be more widely accessible – thereby speeding up the scientific discovery process. ECS scientists are working on sanitation related topics like sensors for monitoring and measurement, drying and dewatering technologies, chemical conversion and corrosion.
You can support the effort toward open access by donating to the ECS Publications Endowment.
In the meantime, celebrate World Toilet Day and help break the silence.
We leave you with this song …