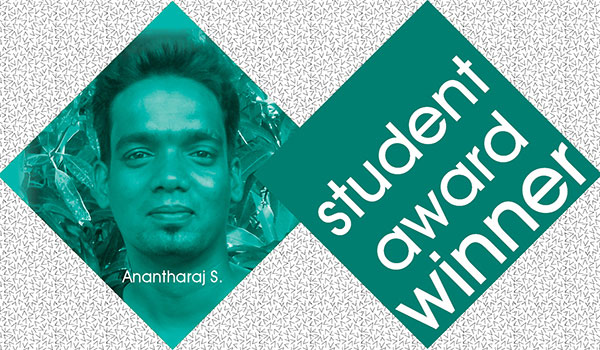 The winner of the inaugural ECS India Section S.K. Rangarajan Graduate Student Award is Anantharaj S of the Council of Scientific & Industrial Research (CSIR).
The S.K. Rangarajan Graduate Student Award was established last year to assist a deserving student in India in pursuing a career in disciplines related to electrochemistry and solid state science and technology. The award consists of a certificate, a $500 (US) prize, and a complimentary one-year ECS membership. Moving forward, the ECS India Section will recognize one such winner annually at its acclaimed India School, which is a weeklong teaching program in electrochemistry for young researchers. The recipient may be invited to speak at that meeting about his or her work or on another topic of interest to the field of electrochemistry.
Anantharaj S has shown his excellence from secondary school level to his MSc in chemistry by securing CGPAs always higher than 8.3. Later, he qualified for the state and national level eligibility tests (SLET and NET) for lectureship by simultaneously securing the award of junior research fellowship from the CSIR, while concluding his MSc coursework. He subsequently joined the research group of Dr. Subrata Kundu at CSIR (2014).
His research interests are mainly focused on the synthesis and self-assembly of transition metals based nanostructures for their application in the fields of energy, environment, and catalysis. The primary focus of his PhD thesis is the design and application of nanostructured inorganic materials as electrocatalysts for water splitting to enable energy and cost-efficient H2 production.
In his research career, he has published 24 research articles and two review articles with an average impact factor of 5.635. In addition, he has also edited a book chapter on the recent advances in the field of transition metals based electrocatalysts for catalytic water splitting.
The award namesake, Sarukkai Krishnamachari Rangarajan (SKR), was an exceptional scientist whose diverse research investigations ranged from functional analysis and stochastic modelling to ion transport across membranes and bipolar cells. His electrochemistry career spanned from 1955 until his death in 2008 with work at Alagappa Chettiar College of Engineering and Technology, the Central Electro Chemical Research Institute (CECRI), Indian Institute of Science in Bangalore, Institute of Mathematical Sciences in Chennai,  Raman Research Institute in Bangalore and National Aerospace Laboratory in Bangalore.
Thank you to all of our donors who supported the creation the award. The goal is to increase the award prize to include travel and conference registration so that future award winners are recognized at the ECS biannual meeting. If you would like to continue to help us grow the fund, please consider making a gift (choose ECS Fund and then in the recognition section chose "In honor of" and write SKR). We appreciate your recognizing the good work that is being done following the legacy of SKR.