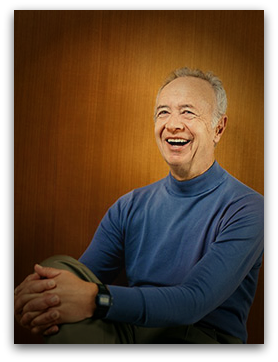 Businessman, author, and one of the foremost minds behind the development of the semiconductor, Andy Grove, passed away on Monday at the age of 79.
Technological giant
During his three decades with Intel, Grove helped transform the chip-making colossus into the world's largest manufacturer of semiconductors. He grew with the company as it obtained more and more success, acting as Intel's president in 1979 and becoming CEO in 1987.
"We are deeply saddened by the passing of former Intel Chairman and CEO Andy Grove," said current Intel CEO Brian Krzanich in a news release. "Andy made the impossible happen, time and again, and inspired generations of technologists, entrepreneurs, and business leaders."
Many considered Grove as one of the giants in the world of technology, leaving his mark on everything from memory chips to the digital revolution at large. Without Grove's contributions to the development of the semiconductor, much of modern life would be very different. Items such as handheld electronics, LED displays, and even solar cells would not exist if not for the semiconductor.
(MORE: Learn about how semiconductors shape society.)
Grove's influence on ECS
Here at ECS, Grove's contributions to technology have helped shape some of our divisions and topical interest areas. In 2013, the Society established the Bruce Deal & Andy Grove Young Author Award to recognize the best paper published in the ECS Journal of Solid State Science and Technology (JSS) by a young author. The award was named in Deal, another Fairchild employee, and Grove's honor for a seminal paper that was published in the Journal of The Electrochemical Society (JES) describing the Deal-Grove model, which is used to analyze thermal oxidation of silicon in semiconductor device fabrication and has had a lasting influence on the semiconductor technology industry.
While Grove's career and life trajectory may have been highly prestigious, he came from humble beginnings. In 1956, Grove immigrated to the United States after having survived Nazi occupation in Budapest, Hungary. He went on to carve his path in technology at the University of California at Berkeley, where he would obtain his PhD before beginning his career at Fairchild Semiconductor.
When his coworkers Gordon Moore and Robert Noyce left Fairchild to found Intel in 1968, their first act of business was to bring on Grove as the start-up's first employee.
"Andy Grove's contributions to the semiconductor industry started with science, evolved to operations and then to the complete business," said Gordon Moore today. "Intel Corp. is to a large measure the result of his dedication and drive. He had a rare ability to find and seize the key elements of a situation and take appropriate action. I was fortunate to work with him for  most of my career."
(READ: "Andy Grove, Engineer: Rest in Peace")
The life of a legacy
"Andy approached corporate strategy and leadership in ways that continue to influence prominent thinkers and companies around the world," said Intel Chairman Andy Bryant. "He combined the analytic approach of a scientist with an ability to engage others in honest and deep conversation, which sustained Intel's success over a period that saw the rise of the personal computer, the Internet, and Silicon Valley."
Grove was awarded Time magazine's Man of the Year award in 1997 and saw Intel profits balloon from $248 million to $6.9 billion in the 11 years he served as CEO. While he may have "retired" in 1998, Grove continued cranking out technical papers and advocating for fuel-efficient vehicles and cuts to the nation's dependence on foreign fuel.
While he was faced with prostate cancer and Parkinson's disease in his final years, Grove remained positive and focused on the science.
"Maybe I'm Don Quixote," Grove said in a 2011 newspaper interview. "But the best treatment I can get is to be energetic and committed to something."