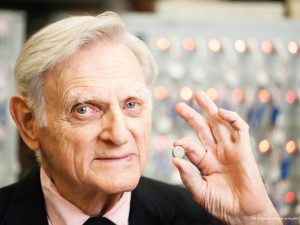 The Electrochemical Society is now accepting nominations for the newly established John B. Goodenough Award of The Electrochemical Society
The Society announced the creation of the new biannual award at Nobel laureate and longtime ECS member John B. Goodenough's 100th Birthday Celebration on July 25, 2022. The award recognizes distinguished and outstanding contributions in:
Fundamental and technological aspects of electrochemical materials science and engineering;
Materials innovations in the areas of batteries, solid ion conductors, fuel cells, transition-metal oxides, and/or magnetic materials.
Nomination deadline: October 23, 2022
The first award recipient will be acknowledged at the 243rd ECS Meeting in Boston, MA, in May 2023. At that meeting, the recipient will deliver a general address on a subject related to the contributions for which the award was presented.
The award will be presented biannually and consists of a gold medal; plaque with a bronze replica of the medal; USD$10,000; and more. Read about the recipient qualifications and the nomination process here before submitting nominations.
ECS Honors & Awards Program 
Learn more about the Society's program to honor and recognize outstanding technical achievements in electrochemical and solid state science and technology, and recognize exceptional service to ECS.
For further information about ECS Society, Division, Section, and Student Awards, email awards@electrochem.org or telephone 609.737.1902.