The following article was originally published in the winter 2017 issue of Interface.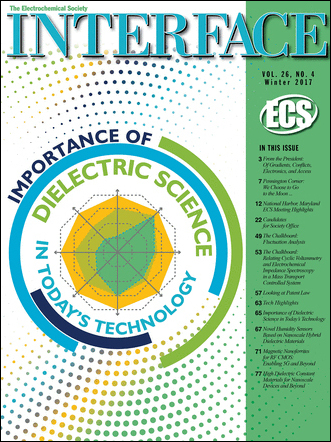 By: Johna Leddy, ECS President
"It is all about power. If you have power, you have water. If you have water, you have food. If you have food, you can go to school. If you go to school, you have tools to think. If you have access and tools to think, you can learn those next door are not so different. You can work together to mitigate energy disparates and so reduce conflict. It is all about power."
-ECS satellite OpenCon, October 2017
ECS looks to its future as a forum for research and a conduit for access and communication. Tenets of the scientific method are invariant, but practice of communication and access change. Change is driven by gradients. Without gradients, energy is minimized and the system dies, but if gradients are too steep, the system becomes unstable. History maps conflicts over energy and power. Early wars were over land for food energy. Distribution of natural resources and oil sustain conflicts for thermal energy. Gradients in energy distribution drive change and conflict. Going forward, access to critical materials and information, coupled with the skills and imagination to develop advanced technologies, will mitigate steep gradients in energy distribution.