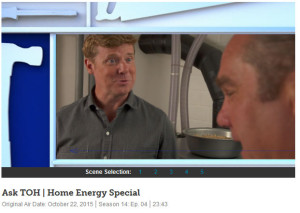 My DVR told me to watch this and it was right.
I love This Old House and Ask This Old House. They did a 30 minute home energy special this past week that, whether the show producers knew it or not, shows off electrochemistry and solid state science in the most practical terms.
Richard and Kevin take a trip to Germany to discover how the country has become a world leader in energy efficiency. They find answers in the mechanical rooms of a home and a bed and breakfast. Plus, Kevin and Ross head to Texas to install a residential wind turbine in Texas.
I should have guessed Germany would be the focus for energy after attending the 228th ECS Meeting in Phoenix a couple of weeks ago. For the first time we brought along one of our staff members, Dinia, who is German. It seemed like she was talking to every other attendee in her native language. I had no idea how many German speakers we had at our meetings.
The wind turbine part of the show from Texas is equally interesting and equally electrochemical.
You'll be hearing a lot more about energy and electrochemistry/solid state science. The Electrochemical Energy Summit was part of the 228th ECS Meeting. We interviewed seven major players in the alternative energy field in between their talks. They made the point repeatedly that electrochemistry is at the forefront of energy production and the sustainability of our planet. There is a video in the works on the topic.
Watch the energy episode of Ask This Old House.