The Electrochemical Society hosted Prof. Jill Venton's live webinar, "Novel Carbon Electrodes for Neurochemistry," on May 26, 2021. Below are answers to questions posed after the presentation.
NOTE: Registration is required to view the webinar.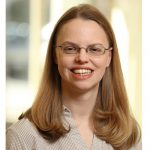 Dr. B. Jill Venton is Professor and Chair of the Department of Chemistry at the University of Virginia (UVA), U.S. She is also affiliated with the Neuroscience Graduate Program and UVA Brain Institute. Dr. Venton received her BS in Chemistry from the University of Delaware, U.S.; her PhD in Chemistry from The University of North Carolina at Chapel Hill, U.S.; and did postdoctoral research at the University of Michigan, U.S. Her career at UVA started in 2005 and she became Chair of the Department of Chemistry in 2019. The Venton Group's research focuses on developing analytical chemistry tools for neuroscience research. The lab studies many neuroscience diseases, from Parkinson's, to addiction, stroke, and aging.
Q&A
Is it a normal practice to have widely different concentrations of analyte while comparing their CVs? (more…)