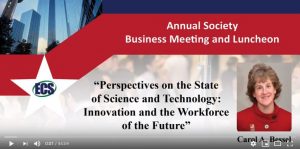 As ECS celebrates the 40-year-anniversary of its first female president, Joan Berkowitz, it is important to note that ECS has a tradition of showcasing women in the sciences at its meetings. Carol A. Bessel, acting division director at the National Science Foundation (NSF), was the highlighted speaker at the annual business meeting at the 235th ECS Meeting. Valerie Browning, director of the Defense Advances Research Projects Agency (DARPA)'s Defense Sciences Office (DSO), will deliver the ECS Lecture at the plenary session of the 236th ECS Meeting. If including, recognizing, and hearing women is critical to attracting and retaining talented women in the sciences, then Bessel and Browning are shining examples of women leading the way.
Bessel presented "Perspectives on the State of Science and Technology: Innovation and the Workforce of the Future," in Dallas. In a world where science and technology are constantly innovating, Bessel described how the workforce of the future must change to keep pace. She presented perspectives on the state of science and workforce development, including the outlook for funding, challenges faced by both funders and those seeking funds, and priority technical areas for NSF both now and in the future. Hear her presentation now.
Browning will provide a perspective on the future of science from another branch of the government. After reviewing the impact of DARPA DSO's almost 60 years of investment in the electrochemistry and solid state science and technology, she will discuss current investments and what might be on the horizon for future areas of interest.  She will provide a unique insight into how DARPA DSO programs are generated—and funded.
Don't miss Browning's ECS Lecture at the 236th ECS Meeting's plenary session. Watching Bessel's presentation and attending Browning's lecture are excellent preparations for an exploration of diversity and inclusiveness overall at  "40 Years After: A Symposium on Diversity," taking place on Wednesday, October 16, at the 236th ECS Meeting.