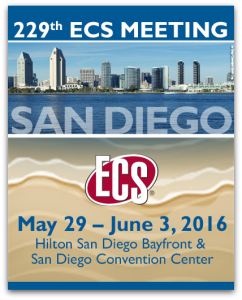 Don't miss your chance to submit your abstract to the upcoming ECS biannual meeting in San Diego. The deadline is December 11!
The 229th ECS meeting, being held May 29 – June 3 at the Hilton Bayfront and the San Diego Convention Center, is already gearing up to be an important and energizing get-together. This location, right in the heart of downtown San Diego, is the perfect setting to really immerse yourself in all that San Diego has to offer from world class dining, élite shopping, and a plethora of outdoor activities.
Of course, first you'll have to tear yourself away from any of the 50+ technical symposia we will be running, including:
Grand Challenges in Energy Conversion and Storage,
Sustainable Materials and Manufacturing,
The Brain and Electrochemistry,
More-than-Moore 3,
Medical and Point-of-Care Sensors,
Future and Present Advanced Lithium Batteries and Beyond – a Symposium in Honor of Prof. Bruno Scrosati.
…just to name a few
Make sure to join us and present your research alongside of the leading experts in the fields of electrochemistry and solid state science. Check the Call for Papers and see what we have in store for you!
There's less than two weeks left to submit your abstract.