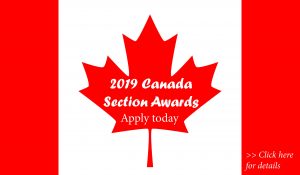 ECS is currently accepting nominations for two Canada section awards:
The Canada Section W. Lash Miller Award was established in 1967 to recognize Canada residents with publications and/or excellence in the field of electrochemical science and technology and/or solid state science and technology. The award consists of a $1,000 CAD prize.
Application Deadline: December 31, 2018
The Canada Section Student Award was established in 1987 to recognize promising young engineers and scientists in the field of electrochemical power sources. The award is intended to encourage the recipients to initiate or continue careers in the field. The award recipient will receive a $1,500 CAD prize and have the chance to present an award talk to section constituents.
Application Deadline: February 28, 2019
---
This past year was a banner one for the ECS Canada Section as it offered recognition with three of four awards within the ECS Honors and Awards Programs. After eight years, the Canada Section Electrochemical Award was presented to Ashok Vijh of Institut de recherche d'Hydro-Québec and the National Institute of Scientific Research (INRS) of Université du Québec. The Canada Section R. C. Jacobsen Award had not been given out in seven years, but James Noël of the University of Western Ontario took the prize in 2018. Finally, this year the annual Canada Section Student Award was presented to Shuai Chen.
Apply today to join the growing list of honorees and good luck!