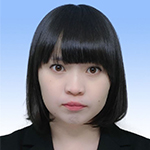 The ECS Corrosion Division recognized its 2022 Morris Cohen Student Award winner at the 242nd ECS Meeting in Atlanta, GA. The recipient, Dr. Mariko Kadowaki of the National Institute for Materials Science presented her award talk, "Microscopic Electrochemical Properties of Carbon Steels and Metallurgical Approach for High Corrosion Resistance," on October 11, 2022.
Mariko Kadowaki
Mariko Kadowaki is a Researcher at the National Institute for Materials Science in Sengen, Japan. She finished her BS in 2016, MS in 2018, and PhD in 2021 in the Department of Materials Science at Tohoku University. During her PhD research, she applied a micro-electrochemical technique to clarify the relationship between the microstructure of carbon steels and pitting corrosion resistance. She also applied first-principles calculations to elucidate the electronic interaction between Fe and interstitial atoms in carbon steels. An active member of The Electrochemical Society, she received a 232nd ECS Meeting Student Poster Session Award Honorable Mention in 2017. She won the 2021 Japan Society for the Promotion of Science Ikushi Prize as well as a L'Oréal-UNESCO for Women in Science Japan Fellowship for Materials Science.
Morris Cohen Graduate Student Award
The ECS Corrosion Division Morris Cohen Graduate Student Award was established in 1991 to recognize and reward outstanding graduate research in the field of corrosion science and/or engineering. The award consists of a scroll and USD $1,000 prize. Up to USD $1,000 is available for travel expenses to attend the meeting where the award is presented and the recipient lectures on their research at an ECS Corrosion Division symposium.
Read more about this award and view the list of winners here.
Nominations for the 2023 award are accepted through December 15, 2022.
ECS Honors & Awards Program
ECS recognizes outstanding technical achievements in electrochemistry and solid state science and technology through its Honors & Awards Program. These awards are an opportunity to highlight contributions by many deserving members of our scientific community.
For more information about ECS Society, Division, Section, and Student Awards, email awards@electrochem.org or telephone 609.737.1902.