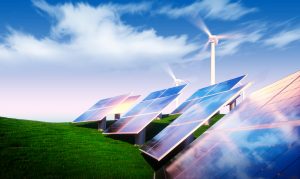 According to The Conversation, California Governor Jerry Brown has signed a new law committing to make the Golden State the state 100 percent carbon-free by 2045.
The new law is comprised of multiple targets, committing California to draw half its electricity from renewable sources by 2026, and then to 60 percent by 2030.
California's mission to stop relying on fossil fuels for energy has been a longtime goal in the making. Since 2010, utility-scale solar and wind electricity in California increased from 3 percent to 18 percent in 2017, exceeding expected targets, due to solar prices drop in recent years. In 2011, Brown signed a law committing the state to derive a third of its energy from renewable sources like wind and solar power by 2020. And in 2017, about 56 percent of the power California generated came from non-carbon emitting sources, placing state over halfway to their goal for 2045.
Of course, there are complications. The state's mix of energy sources can vary a great deal, even from one hour to the next.
April 8, 2018, for example, was generally sunny and windy day with relatively low electricity demand. That night, about 40 percent of electricity was generated from renewable sources. Yet, later that day around noon, more than 80 percent of electricity came from renewable sources.
And on July 24 and July 25, 2018, Californians were asked to voluntarily use less electricity between 5 pm and 9 pm to avoid an outage because of hot weather.
Relying heavily on renewable energy, combined with this degree of variability, will require ample energy storage and big investments in grid-based technology – nothing that Californian's haven't already been working on.
Today, pumped hydro storage, electricity generated from water pumped to a reservoir, is the state's most common form of storage today. Also, big lithium-ion batteries are becoming more affordable and are now beginning to be deployed on the utility scale. Because of lower battery costs, electric vehicles are more affordable, driving sales. All of which are just a few of the resources Californian's are turning to, to create a greener state.
The Golden State isn't alone in its quest to create a carbon-free future. Scientists and engineers are working hard on developing new renewable energy technology, by advancing solar and lithium-ion battery technology. Scientists and engineers from around the world will come together at AiMES 2018 to discuss their research in the field, as well as developments in other disciplines within the electrochemical and solid state sciences. Meet the innovators of today and leaders of tomorrow this fall. Don't miss it.