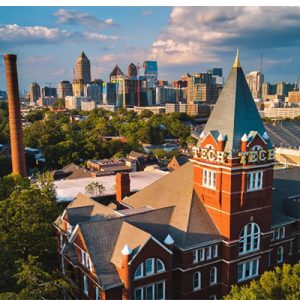 Join the ECS Georgia Institute of Technology Chapter and ECS Georgia Section for a free half-day conference featuring speaker William E. Mustain. Gather at Georgia Tech to share ideas, present work, and form new collaborations with graduate students and post doc researchers in the field of electrochemistry (including fuel cells, batteries, electrocatalysis, and bio-electrochemistry).
When:  Friday, September 27, 2019
Schedule:
1000h  |     Check-in and Networking
1100h  |     Featured Talk
1200h  |     Lunch and Poster Setup
1245 h |     Student Poster Contest
1430 h |     Award Ceremony
Where:
MARC Auditorium, Georgia Tech, 901 Atlantic Drive, Atlanta, GA, 30332
Event registration is free and open until Thursday, September 26, 2019.
Featured Speaker
Opportunities and Fundamental Challenges for the Development and Deployment of Anion Exchange Membrane Fuel Cells
Professor William E. Mustain, College of Engineering and Computing, University of South Carolina
Call for Student Poster Contest
To participate in the contest, submit your poster title. No abstract is required. Posters should measure no more than 48 inches by 36 inches. First prize is a $200 gift card, second is $100, and third is $50.
For more information, contact Jung (Zhengyuan) Fang at zfang9@gatech.edu